Jeter holds many fond memories of Minnesota
Yankees captain likely to return again for All-Star Game at Target Field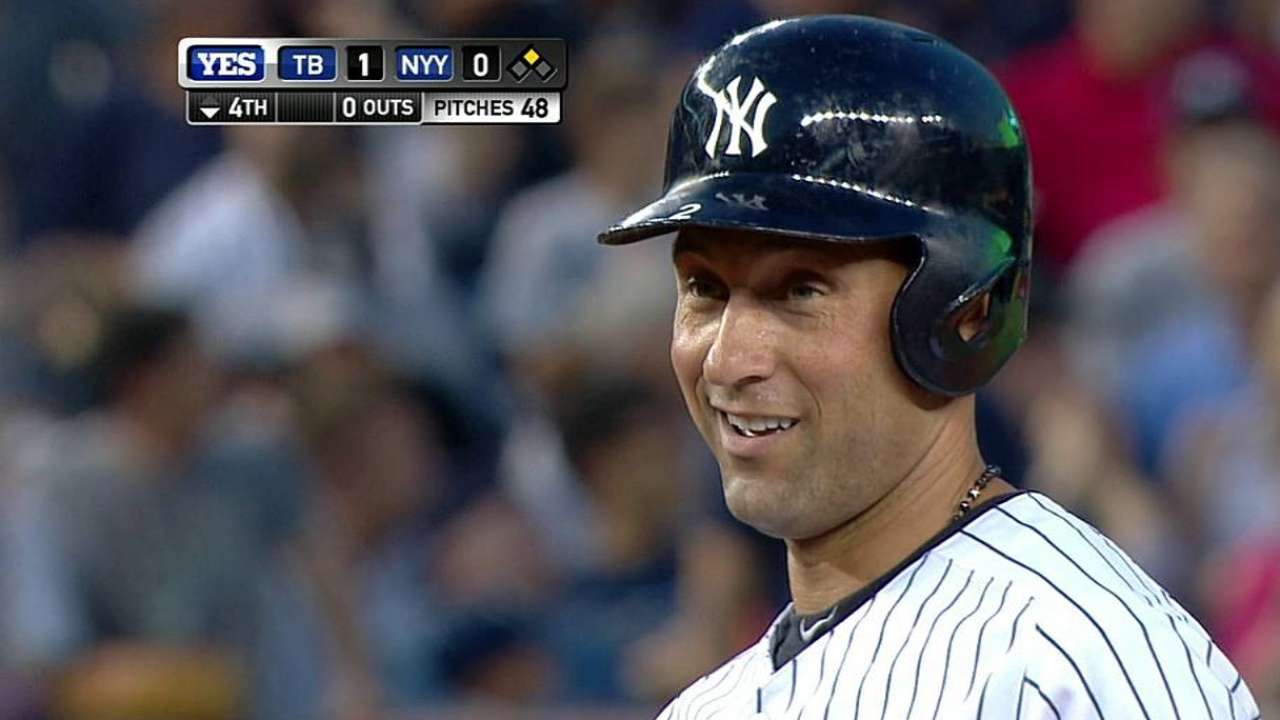 MINNEAPOLIS -- Yankees shortstop Derek Jeter is clearly not ready yet to say goodbye.
During his dugout press conference before Thursday's game at Target Field, a reporter uttered two words that Jeter took offense to.
"I don't like calling it a Farewell Tour," he said. "It's my last year, but we're still trying to win games. I have a job to do. So, I'm not just walking around shaking hands and taking pictures."
The Yankees are in town for the final regular-season series against the Twins in Jeter's storied career. He reminisced about loud playoff games at the now-demolished Metrodome, and showed a particular fondness for Minnesota's style of play.
"They had some great teams that we battled against the postseason," Jeter said. "I have the utmost respect for [Twins manager] Ron Gardenhire, playing against him and his teams."
While this weekend is New York's last regular-season visit to the "Mini Apple" in 2014, Jeter is expected to return to Target Field in 12 days for the 85th All-Star Game on Tuesday, July 15.
At last tally, Jeter led all American League shortstops with 2,924,686 votes, but he did not want to make any assumptions until Sunday, when the teams are announced.
"No All-Star teams have been selected, so I can't comment on that," the Yankees captain said.
The 14-time All-Star and future Hall-of-Famer eased up to at least discuss the possibility of playing in the game.
"All-Star Games are great," Jeter said. "I've always said that. It's not something I take for granted. I've been fortunate to play in quite a few of 'em. They're all unique. They're all special."
While Jeter couldn't think of anything in particular he'd remember about Minnesota off the field -- "I'm sort of a homebody right now," he said. -- the shortstop recalled his time against the Twins fondly.
For the most part, though, Jeter was more interested in talking about the future than the past.
"I have a competition problem," he said. "I like to compete. I like to win."
Fans can cast their votes for starters at MLB.com -- online or on a mobile device -- using the 2014 All-Star Game MLB.com Ballot Sponsored by Experian until tonight at 10:59 p.m. CT. The 2014 All-Star Game will be played at Target Field on Tuesday, July 15 on FOX.
Alex M. Smith is an associate reporter for MLB.com. This story was not subject to the approval of Major League Baseball or its clubs.