MLB.com Columnist
Richard Justice
All-Star rosters prove Jeter leaving MLB in good hands
ASG a time to thank Yankees shortstop, but to also showcase rising young talent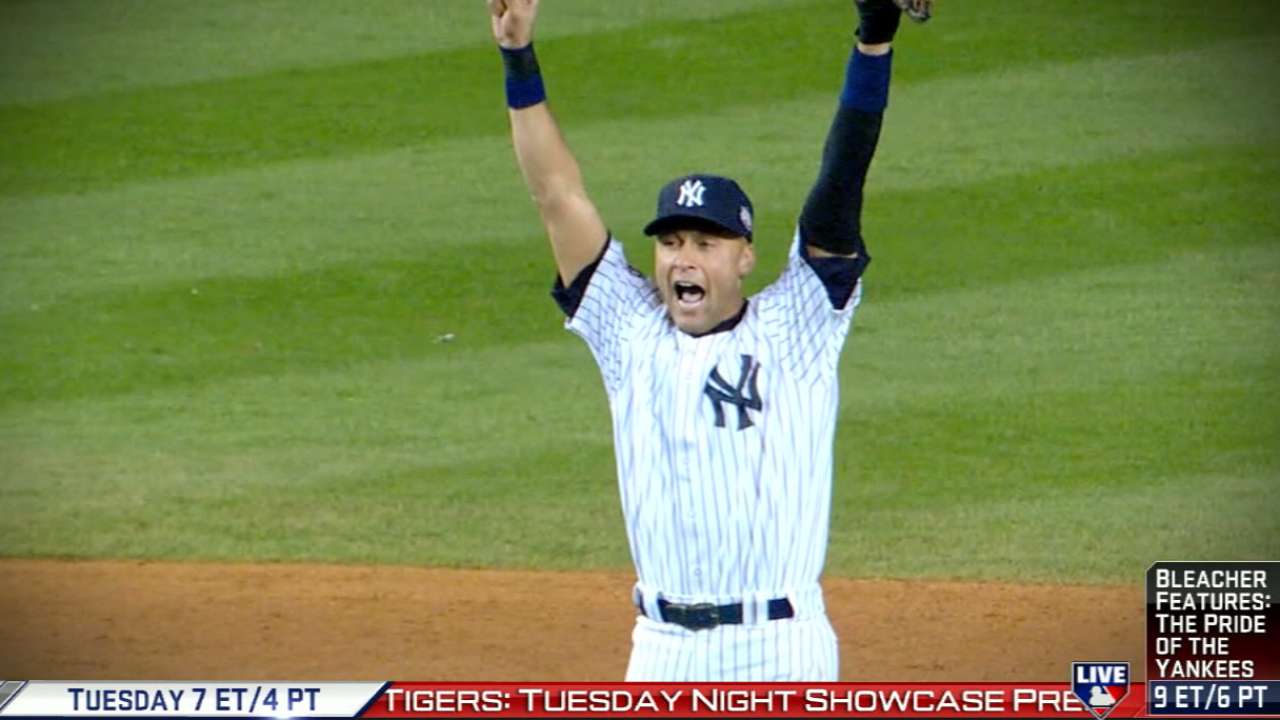 For a couple of years now, we've seen wave after wave of young talent arrive; not just young players good enough to make teams and maybe contribute, but young talent capable of dominating games and winning championships.
This year's All-Star Game, at Minnesota's Target Field airing live on FOX on July 15, 7:30 p.m. ET, is about the players who are rapidly becoming the face of baseball. They'll all remember the night they shared the stage with Miguel Cabrera and Yadier Molina, with Adam Wainwright, Felix Hernandez and Jose Bautista. In this way, they will know they have arrived.
This All-Star Game is about all the blending of generations. It's about A's third baseman Josh Donaldson, too. He's perhaps the heart and soul of baseball's best team; an incredible player, one of the rare ones who impacts games both in the field and at home plate. His athleticism, competitive fire and numbingly consistent production has helped fuel the A's to a 101-win pace.
Ah, yes.
The A's have seven All-Stars in all, including their new pitcher, Jeff Samardzija, who was just acquired from the Cubs. They're a tribute to the team that has won the most games, scored the most runs and given up the fewest.
They're also a tribute to the genius of their general manager Billy Beane, who should one day have a plaque in Cooperstown. He changed the game forever in his ability to assess talent, construct rosters and find magic where almost no one else believed it possible.
And so his seven All-Stars are about his work. He signed left-hander Scott Kazmir, who is back in the All-Star Game for the first time since 2008. He missed almost two entire seasons and worked relentlessly to reinvent himself with the distant dream of one day getting back to this point.
The All-Star Game will be a chance for him and his family to take a deep breath, soak in the moment and appreciate how far he has come. And the A's have others. First baseman Brandon Moss, with his fourth team, may feel overwhelming emotion.
There were times he probably thought that this was a dream too crazy to even contemplate. A's closer Sean Doolittle, a rising star, is a 2014 All-Star, and so is catcher Derek Norris, both for the first time.
And there's A's left fielder Yoenis Cespedes, part of the influx of incredible Cuban talent the last few years, and the defending Home Run Derby champion.
There are other sweet, sweet stories. Brewers closer Francisco Rodriguez has rediscovered his magic, making the All-Star Team at 32, for the first time since 2009.
Brewers general manager Doug Melvin took a chance on K-Rod, and like a lot of his other work the past couple of years, he had added to a team that has spent virtually the entire season in first place.
Lucroy is making his first All-Star appearance, Gomez his second. Brewers third baseman Aramis Ramirez, a solid pro, is a 2014 All-Star, too.
The Royals have a pair of young stars with Perez at catcher and Alex Gordon in the outfield; two of the players that have made Kansas City baseball's best defensive team by miles.
Somewhere along the way, though, as we marvel at the young talent and appreciate the old pros, we'll take a moment to tell Jeter, 'Thanks.'
Maybe that'll come the first time he steps in the batter's box, or when he takes the field for the first time. Maybe it'll be when he exits the contest and joins his teammates in the dugout.
At that point, we'll stand, we'll applaud and we'll let him know that we'll miss him. We'll miss his grace, his dignity and his class. He defined all the things we love about baseball.
He was about winning and production, doing things right, always saying the right thing while representing an entire sport and serving as a role model for every single player.
He's leaving the game in the capable hands of Trout and Stanton and an entire generation of resplendent stars. But there'll never be another one exactly like the great Jeter. Thankfully, this All-Star Game will provide us an opportunity to tell him exactly that.
Richard Justice is a columnist for MLB.com. Read his blog, Justice4U. This story was not subject to the approval of Major League Baseball or its clubs.