McCann believes he's cut out to play in New York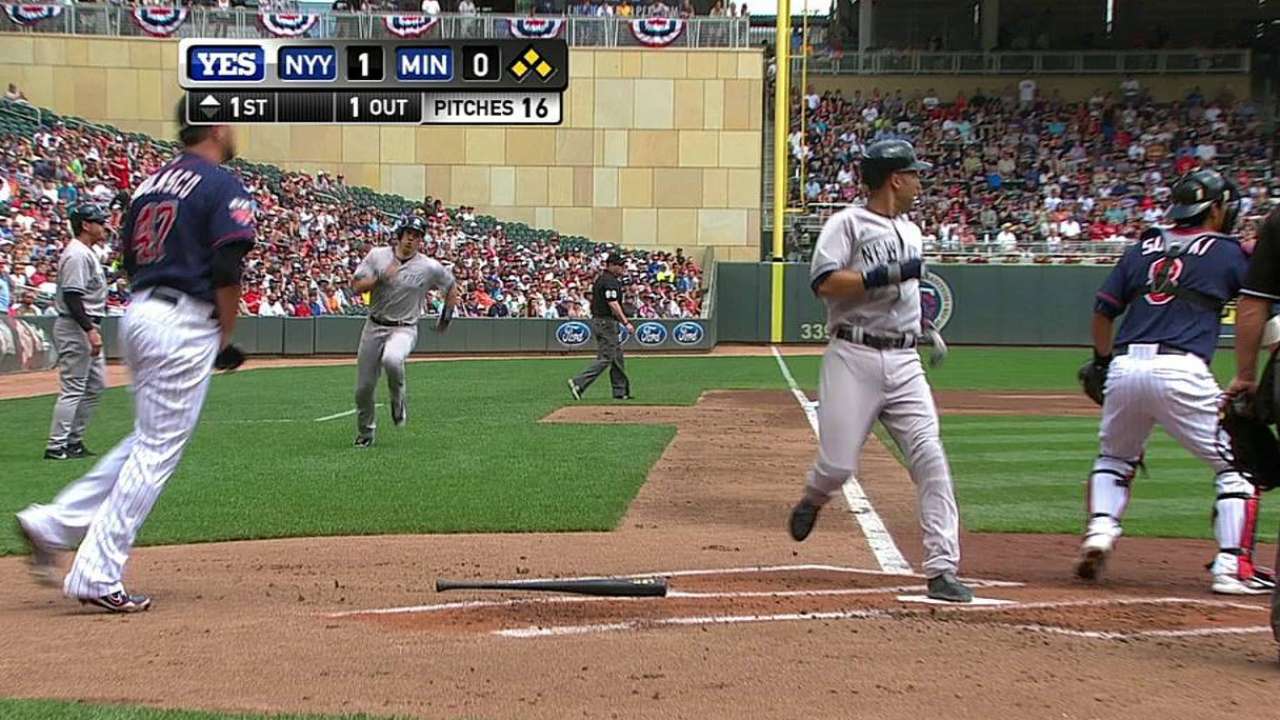 CLEVELAND -- Brian McCann's first few months in a Yankees uniform have not lived up to his expectations, but the veteran catcher disagrees with the idea that he might just not be cut out to play in New York.
McCann awoke on Tuesday to a few text messages alerting him to a story in the New York Post, where Braves coach Terry Pendleton was quoted as saying that he thinks McCann "will never be comfortable" with the Yankees.
"I read the article. I disagree," McCann said. "I absolutely love it here. I've got off to a slow start, but I absolutely love it here."
Pendleton told the newspaper that he believed that McCann would wind up with either the Yankees or the Rangers this offseason. McCann jumped at the Yankees' offer early in the winter, inking a five-year, $85 million pact.
"New York is not Brian," said Pendleton, who said he thought McCann would be more comfortable in Texas. "That's my opinion. I knew if he chose New York, there would be more than he expected or knew about. He'll never be comfortable with that."
Despite his Georgia roots, McCann said that adjusting to life with the Yankees has not been difficult.
"I really haven't noticed a big difference," McCann said. "It's still baseball. It's still you put a uniform on, you go out and put your best foot forward. That's what I'm doing.
"It just hasn't gone quite like I wish it would, but at the same time, we've got a whole half of baseball left. We're in a pennant race and those are the things that I'm focused on."
Pendleton said that he believes McCann's contract has been "hanging over his head," with his $17 million average annual salary ranking as the largest issued to a free-agent catcher.
"Not at all," McCann replied. "Not one bit."
Pendleton also said that McCann has become a pull hitter over the last three or so years, but believes that he will be able to relax and get back to what he is capable of doing. McCann recently changed his batting stance, eliminating a toe-tap.
"If I'm sitting here hitting .300, this isn't a story," McCann said. "But I'm not, and at the same time, I feel like I've gotten some mechanical things ironed out. I'm back to attacking the baseball, and the last four or five games I've felt like myself."
McCann said that he last spoke to Pendleton during Spring Training, and that he had not decided if he would call the former big league infielder to talk about the story.
"The only part of the article [that bothered me was] that I'm not a New York guy, that's the only part that I didn't like," McCann said. "I absolutely love it here and it's been great so far."
Bryan Hoch is a reporter for MLB.com. Follow him on Twitter @bryanhoch and read his MLBlog, Bombers Beat. This story was not subject to the approval of Major League Baseball or its clubs.