Betances soaks in his first All-Star Game experience
Yankees reliever also honored to be a part of Jeter's final Midsummer Classic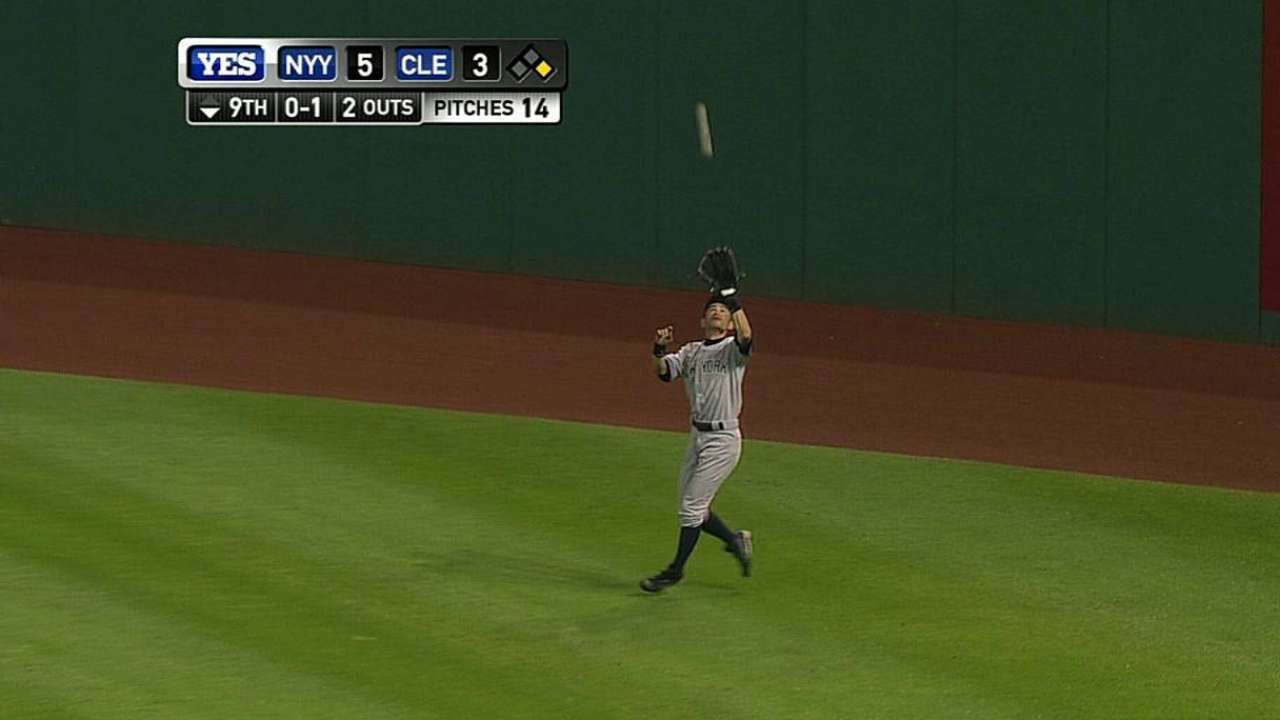 MINNEAPOLIS -- Dellin Betances was seated in a ballroom for the All-Star Game media session on Monday afternoon, glancing to his left and watching a group of about four dozen reporters and cameramen jockeying for the opportunity to toss a question Derek Jeter's way.
"Oh man. Watching him in his last year, this is amazing," Betances said, with a laugh. "I'm honored to be here. It's a great experience getting to meet these guys and know them a little bit. For me, just being here with Jeet's last year, I'm honored to be here."
Betances and Jeter will be dressed in pinstripes for Tuesday's All-Star Game at Target Field (watch on FOX); Masahiro Tanaka was also selected to the American League squad but has decided not to attend in favor of spending the break rehabbing his right elbow injury.
For the 26-year-old Betances, wearing an All-Star jersey seemed like a long shot; stalled by control issues that bumped him back to Double-A and prompted his conversion into a reliever a couple of years ago, Betances' focus was simply on showing enough to earn a spot on the 25-man roster out of Spring Training.
"My goal was to make the team," Betances said. "That was my ultimate goal, just coming into Spring Training to try to make the team and just earn my way, earn a spot in the bullpen and pitch in key games."
Betances emerged as an electric performer, quickly earning the trust of Yankees manager Joe Girardi. Wielding a high-90s fastball and a nasty slider-curve, Betances has a 1.46 ERA in 40 appearances, recording 84 strikeouts in 55 1/3 innings -- or 13.66 per nine innings, the best such mark in the Majors.
"Dellin used to be a starter, so this is a new role for him," Jeter said. "I'd imagine that takes a little bit of an adjustment period, but he's settled in and been as dominant as any reliever in baseball. He deserved to be here as much as anyone."
Betances said that Jeter told him "just to try to soak it all in, try to enjoy it as much as I can." Girardi, who repeatedly said that Betances' strikeout ability could help the AL win, said that he hopes the festivities don't go too quickly for Betances to savor.
"I hope he's able to enjoy it, and enjoy it with his family," Girardi said. "Because it means a lot, and it means a lot for players to the people that have helped you out along the way. You can go all the way back to your first coach. You think about those people and you're appreciative."
Betances said that he got to Minneapolis around 3:30 a.m. CT after flying from the Yankees' rain-shortened 3-1 loss in Baltimore, but he couldn't complain much about the commute.
He was greeted in the hotel lobby by his brothers, Anthony and Dioni, who had piled into a rented SUV and made the 18-hour trek from New Jersey on Saturday morning to attend the Twin Cities festivities.
"They're honored. They're thrilled," Betances said. "They're just like me, enjoying every single minute, every single moment. They're troopers, but they're all here and they're excited. They're just trying to take it all in."
The Dodgers' Clayton Kershaw and the Padres' Tyson Ross were once teammates of Betances' in the Junior Olympics, he said, and Betances said that he is also looking forward to renewing acquaintances with Robinson Cano.
"I met him when he first signed at Yankee Stadium," Cano said. "It's unbelievable the way that he's pitching. They didn't know he had that; I think the problem was throwing strikes. But he's pitching great and God bless him, I hope he continues pitching the same way."
Betances said that he is looking forward to seeing what tributes are planned for Jeter, adding that it is "a little disappointing" that Tanaka is missing out on the fun after performing so well over his first 18 big league starts.
Tanaka was scheduled to have a platelet-rich plasma injection on his right elbow on Monday in New York, beginning a rehab program that the Yankees hope will have him back on a Major League mound in six weeks.
"I'm sure he wants to be here and soak it all in as well," Betances said. "I'm sure he'll get healthy and he'll be in plenty more All-Star Games, but it's definitely tough. This is a guy that helped us the whole first half and it's tough to see him get hurt. Hopefully he gets back to us."
Bryan Hoch is a reporter for MLB.com. Follow him on Twitter @bryanhoch and read his MLBlog, Bombers Beat. This story was not subject to the approval of Major League Baseball or its clubs.