CC relieved to be avoiding microfracture surgery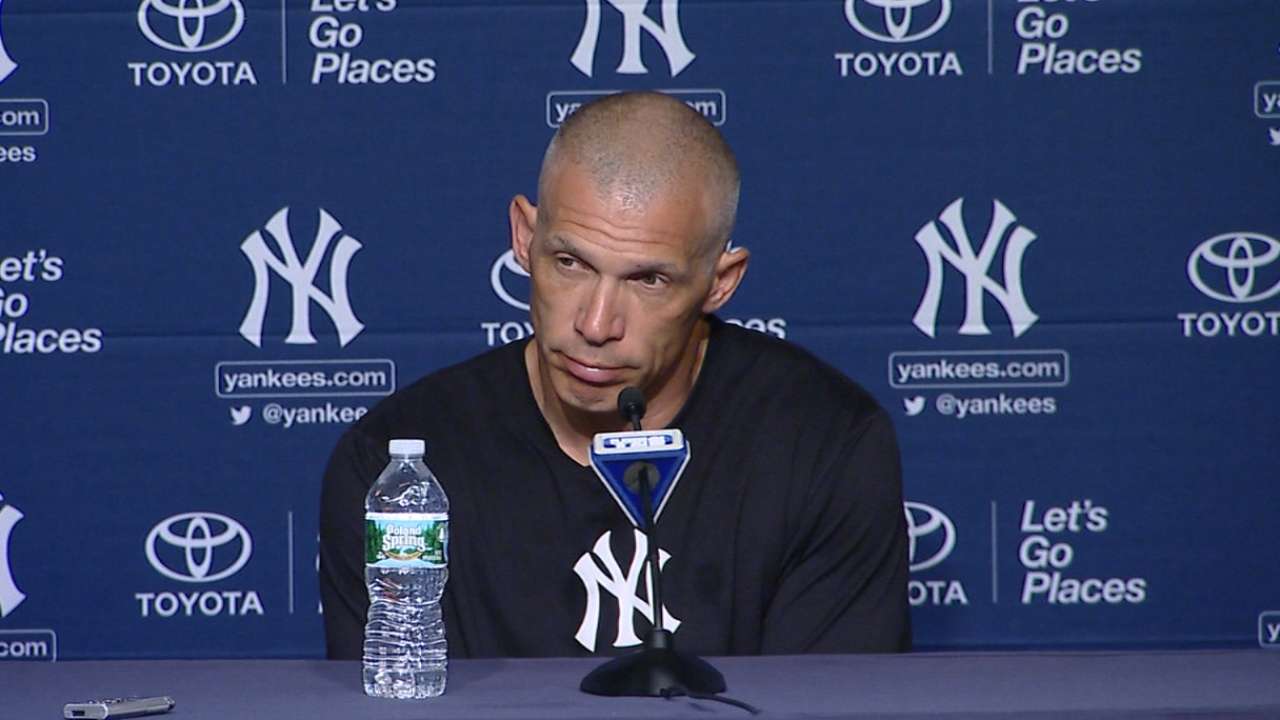 NEW YORK -- CC Sabathia is disappointed to know for sure that his season is over, but the Yankees left-hander said on Saturday that he is relieved to be avoiding microfracture surgery, which could have put his career in jeopardy.
Sabathia is scheduled to have an arthroscopic debridement performed on Wednesday, cleaning out his right knee. Sabathia said that Dr. Neal ElAttrache, who will perform the surgery, is confident that the hurler will be able to be on the mound by Spring Training.
"He feels good about it and I do, too," Sabathia said. "[NBA star] Russell Westbrook had the same surgery and was able to come back and be fine. Obviously, you have to deal with a little bit of swelling here and there, but that's something I have to deal with.
"My goal was to pitch the next five or six years past this contract and to be able to go out and do that. I'm confident I'm going to be able to do that."
Sabathia, who turns 34 on Monday, has not pitched in the big leagues since May 10, when he started against the Brewers at Miller Park and experienced swelling in his right knee. An MRI showed what the team called "degenerative changes" in the knee.
He was 3-4 with a 5.28 ERA this season and attempted to rehab with the aid of a stem cell injection, but experienced more knee issues after making a Minor League start for Double-A Trenton on July 2.
"I felt like I was on the right path," Sabathia said. "Waking up that night after, it just didn't make sense. I couldn't even come in here and get my workout in and do the stuff that I wanted to do."
Because of the wear and tear on his knee, there is a possibility that Sabathia will need to have additional arthroscopic procedures down the line. He said that would still be preferable to microfracture surgery, which has produced inconsistent results with athletes.
"It's something that I'm going to have to deal with probably for the rest of my life and eventually have a big surgery," Sabathia said. "Right now, the goal is to keep playing and this is the easiest way to do it."
Sabathia said that he should be able to resume activities six to eight weeks after the surgery, but he will be an idle observer as the Yankees fight to claim a postseason spot in the second half.
"It's not fun, especially the way these guys have been grinding, and wanting to be a part of it," Sabathia said. "I've been doing everything I can to get back out on the field. It's just unfortunate.
"It's something I've never had to deal with, but I am now. Hopefully, this will give me the time to get healthy and come back to be ready to go in Spring Training."
Bryan Hoch is a reporter for MLB.com. Follow him on Twitter @bryanhoch and read his MLBlog, Bombers Beat. Jake Kring-Schreifels and Jamal Collier are associate reporters for MLB.com. This story was not subject to the approval of Major League Baseball or its clubs.