Veteran Kuroda the last starter standing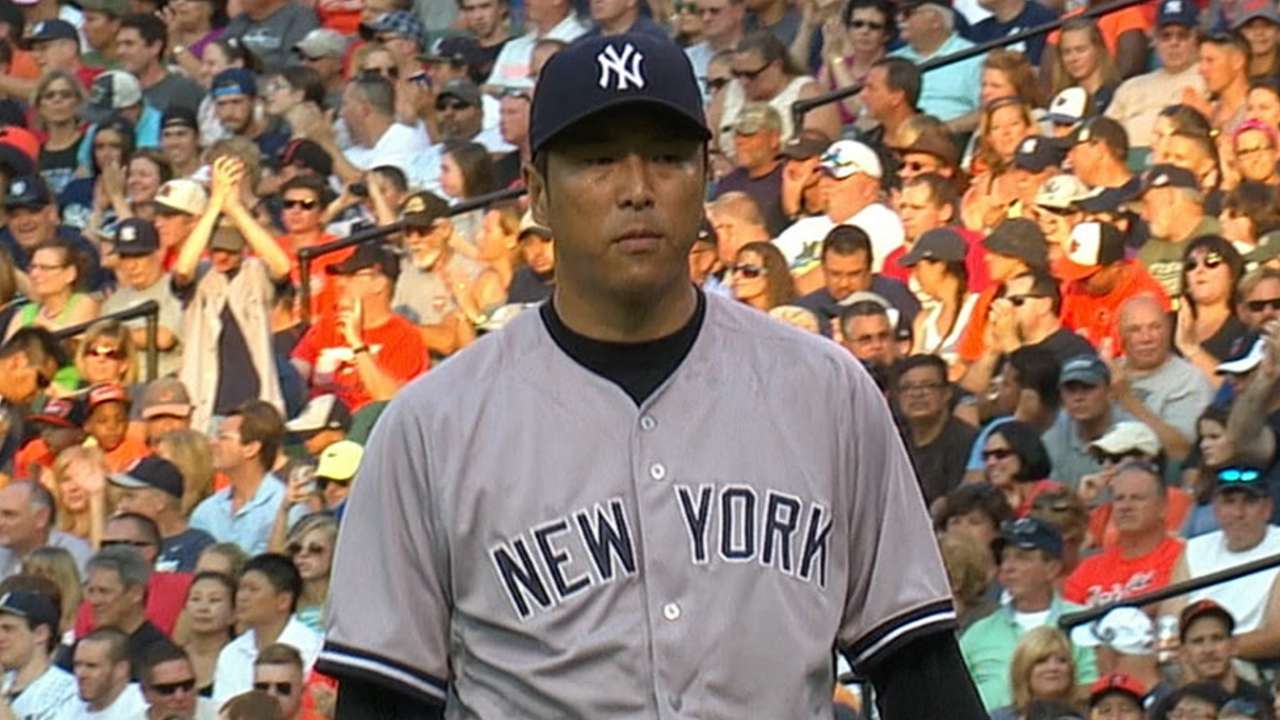 NEW YORK -- When Hiroki Kuroda took the mound for the series finale against the Reds, he did so as the only starter remaining from the Opening Day rotation. Ironically, he's also the oldest, at 39.
"I've thought about that more than once," said manager Joe Girardi. "The last guy standing, in a sense, is the oldest guy."
In another season riddled with injuries, Kuroda has provided consistency, especially at a position that has struggled with it.
That consistency has become a hallmark for Kuroda in his Major League career.
Now in his seventh season, Kuroda only missed significant time in 2009, with the Dodgers, but still racked up 117 1/3 innings. Other than that, he's never started fewer than 31 games in any season, and has pitched more than 200 innings in his last three.
"It just tells you about his conditioning, how he prepared himself on a daily basis during the offseason, that he's done a really good job," said Girardi. "It's probably partly genetic, too. He's been blessed."
But Girardi and the Yanks have helped, making sure their last remaining veteran starter isn't overworked. Eight times this season Kuroda has worked on five days' rest, and once with six.
"We haven't run him over 100 pitches a whole lot this year," said Girardi. "We've given him the extra day when he needs the extra day. I think this is his eighth day today. So we'll do what we can. The other thing is, we're fighting to get in the playoffs, and we're going to have to pitch him."
With David Phelps, Shane Greene, Brandon McCarthy and Chase Whitley filling in for all the injured starters, Girardi is wary of tinkering with how he uses Kuroda in the second half.
"You can maybe push him a little more," he said. "I still think you have to be cautious, because it's kind of like your bullpen. If it gets overworked, then all of a sudden, they're not throwing as well. Well, it's because you overworked him. It's a fine line that we walk."
Jamal Collier and Jake Kring-Schreifels are associate reporters for MLB.com. This story was not subject to the approval of Major League Baseball or its clubs.