Teixeira hoping he's had final day of rest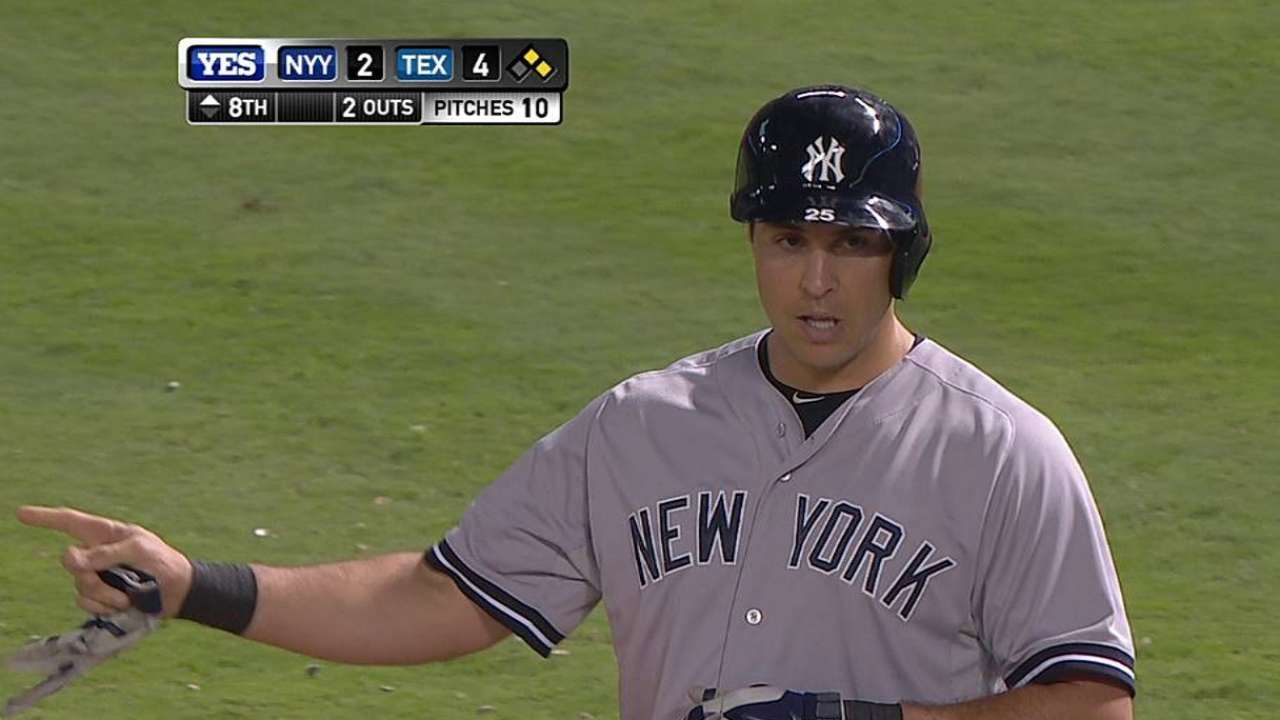 ARLINGTON -- Mark Teixeira took on-field batting practice Monday for the first time since he sustained what the Yankees called a lower lat strain, and the first baseman hopes to return to the starting lineup on Tuesday against the Rangers at Globe Life Park.
"I'm very happy," Teixeira said. "The back spasms are gone, which I've been dealing with for a long time, so that's really good. It's good to see that the treatments worked and the time off helped, so hopefully they won't come back."
Teixeira had not played since July 20 against the Reds before singling in a pinch-hit appearance in Monday's 4-2 Yankees loss; he had a platelet-rich plasma injection, and at the time, the team said that he would miss three to four days. It has been longer than initially anticipated, but Teixeira has at least been able to avoid the 15-day disabled list.
"I wasn't expecting all the little annoying things that come up. That's part of the game," Teixeira said before the game. "Hopefully this is it, and I have two healthy months to finish the season. But missing a couple of games here, a couple of games there, it's never fun."
Teixeira, 34, said that last season's wrist injury made him consider his baseball mortality, and the fact that he could no longer play through injuries that he might have played through while in his 20s.
"I've played through so many things. I can't play through them anymore," Teixeira said. "That's just the fact of the matter. The guys ask me, 'How did you play in Texas for five years, 100 degrees every night?' I was young. I was a kid. I played through everything.
"You fouled a pitch of your leg, 'Go get 'em.' Strain something in your back, 'Go get 'em.' That's just the way it is when you're young. I can't play through those things [now]. I don't think I would have had to miss games with back spasms."
Teixeira said that maintenance will be a key for him, and that he'd prefer to play until something hurts rather than take precautionary days off. But it's pretty much inevitable at this stage that sooner or later, there will be another issue to deal with; as he said with a smile, "Father Time is undefeated."
"I was very lucky that I could play through those things and stay on the field as long as anybody," Teixeira said. "But at a certain point, you hit a wall. I hit a wall last year, and hopefully I won't have a lot of these. But if they do pop up, it's just harder to play through it."
Bryan Hoch is a reporter for MLB.com. Follow him on Twitter @bryanhoch and read his MLBlog, Bombers Beat. This story was not subject to the approval of Major League Baseball or its clubs.