MLB.com Columnist
Marty Noble
HOF weekend brings out best of game's legends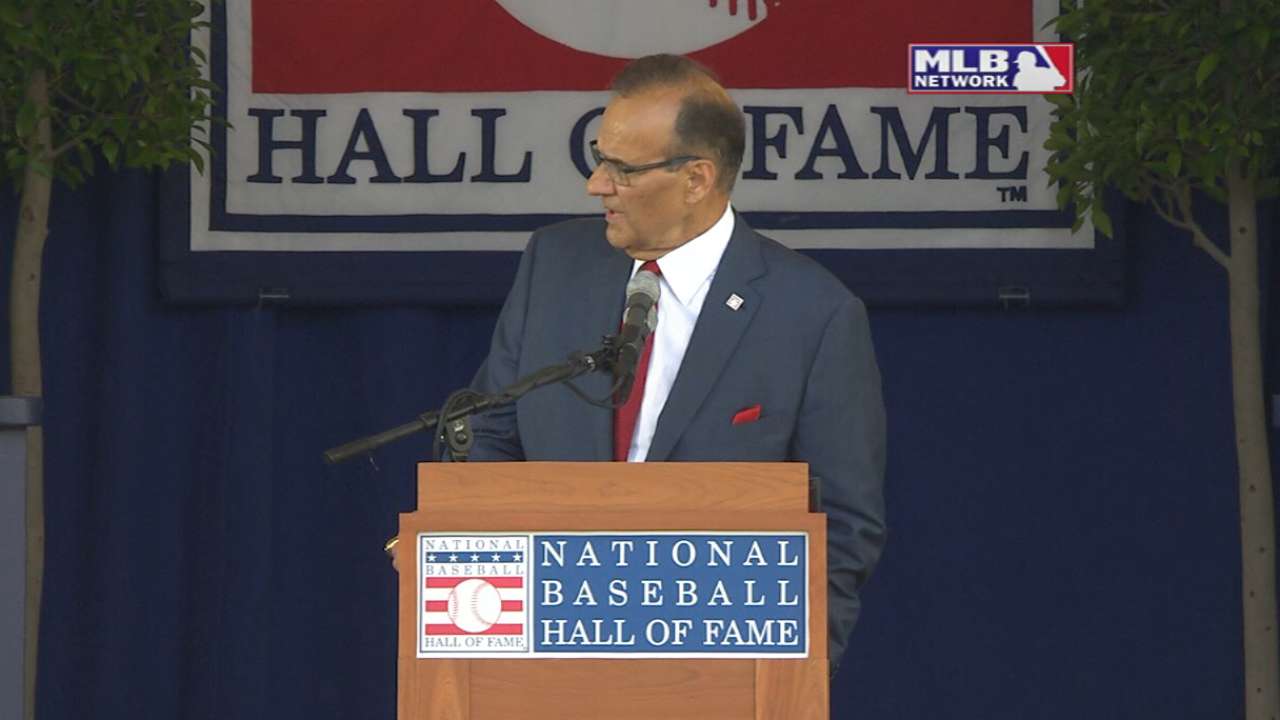 COOPERSTOWN, N.Y. -- Sentimentality about the game readily flows these days, almost 60 years since my first in-person exposure to the game. And when it does flow, it enhances the thought and the experience, flushing out my brain, ridding me of the bad news of the day, the awful news of last week and the worse news of last month. Baseball always has served as a personal elixir since I watched Stan the Man and Pee Wee in Brooklyn in 1955.
My noggin was fully cleansed during four extraordinary, expanded-weekend days in this bucolic setting. The game seldom has been more entertaining, fulfilling and heart-warming.
Folks from all over had flocked here. Joe Torre's daughter traveled from Dubai for Induction Weekend, an event that might have been more appropriately identified as Affection Weekend. The Hall of Fame fostered four days left over from the Summer of Love. We were too far Northwest of Max Yazgur's rolling farmland in Bethel to tread where Jimi Hendrix and Janis Joplin had as the Mets began the push to their first pennant 45 years ago. And most folks remained fully clothed and thought about different types of hits. But the weekend was a baseball Woodstock from the roster of stars appearing to the long lawn covered by thousands to Gary Thorne playing the part of Wavy Gravy. The Hall of Famers and their guests embraced the gathering and each other at every turn. Tommy Lasorda's Dodgers never hugged as much.
Torre twice embraced Lee Mazzilli Sunday night on the sprawling terrace outside the Otesaga Resort Hotel. And he said he regarded Bob Gibson as a brother, and Gibby's wife, Wendy, as a sister-in-law. The Gibsons and Tim McCarver shared breakfast Friday and communicated in verbal shorthand. They know each other so well, they finish each other's anecdotes.
Tom Seaver teased Lou Brock about facing the Cardinals great when Brock was wearing an ear-flap helmet for the first time in a 1970s Spring Training game. Seaver's first pitch struck the flap. And as Brock, uninjured, took his base, Seaver yelled, "Just wanted to see if it would work." They both laughed.
Robin Yount and Paul Molitor formed an inseparable tandem. Childhood chums Ozzie Smith and Eddie Murray were bonded together. And Sandy Carter, Gary's widow, was a welcome surprise. Whitey Ford and his missus, Joan, spent quality time with Yogi Berra's son, Larry. Yogi had been persuaded by his family not to attend. His absence was lamented repeatedly.
Ralph Kiner's absence was conspicuous and universally mourned. The table in Kiner's corner at the Otesaga went unused at three breakfasts.
Billy Williams smiled for 30 seconds each time he saw a familiar face, and he knew just about everyone. Whitey Herzog sought out and found a half-dozen folks who never had heard of the bury-the-hatchet gift he presented to Don Denkinger, the umpire who denied the Cardinals a critical out in Game 6 of the 1985 World Series.
"We gave the SOB a watch," the White Rat said, laughing. "It was Braille."
Goose Gossage went out of his way to reconnect with George Brett, and the Dodgers included Annie Meyers, Don Drysdale's widow, in everything they did. The hug Ron Guidry and Willie Randolph executed resembled a WWE move designed to break ribs. Brett and Mike Schmidt dined together Thursday night. Mrs. Eddie Mathews was missed. She'd been a regular. Folks wondered about her. Who else could jab at Brett? Her husband had hit 512 homers, 195 more than the Royals third baseman.
And Gene Monahan, Torre's trainer in the Bronx, and Bob Watson reminisced about how Ruppert Jones always called the popular medic "Monogram."
Tony Gwynn was missed. And folks mentioned Kirby Puckett as they mourned Gwynn.
Jeff Torborg, stricken with Parkinson's disease, still had a firm handshake though his hands shake involuntarily these days. "If I was catching now," he said "I'd have to call a lot of changeups." Bad Henry had trouble moving around, but smiles were easily accomplished. He and Frank Robby kibitzed in the Hall's plaque gallery Saturday night. Willie should have been with them, but his vision makes travel difficult.
Folks thought some of Torre's Yankees -- Mariano Rivera, Bernie Willies, Tino Martinez and/or Andy Pettitte -- should have been there. Torre will be there for them if and when.
Dennis Eckersley turns 60 soon, Sandy Koufax is 79 in December. Which one has cheated time more? It's a tossup. They could pass for 35 and 60, respectively. Despite a large bald area, Gaylord Perry has enough white hair to make three Santa Clauses. Frank Thomas towered over all others except Dave Winfield and Winny's union boss, Tony Clark. Even then, on Saturday evening, Thomas was trying to cut down the names he would mention Sunday to a less unimaginable 160. Rickey Henderson suggested he should have distributed phone books to the crowd.
Jokingly asked to identify himself, Mr. Cub slowly spun and pointed to his embroidered signature on the back of his Hall of Fame cap -- Ernie Banks. Watson reveled in the moment. And Bobby Cox established a North American record for congratulations accepted.
And everyone asked about Willie or marveled at his unsurpassed skills.
"You know," McCarver said, "I can honestly say I can't recall ever seeing Willie Mays thrown out running the bases [caught stealing not included]."
And so it went, so many warm and entertaining moments. So much genuine affection for each other. The game was at its best for four days. For me, at least. Only a visit from Mickey Mantle would have improved it.
Marty Noble is a columnist for MLB.com. This story was not subject to the approval of Major League Baseball or its clubs.