Drew embraces challenge of playing second base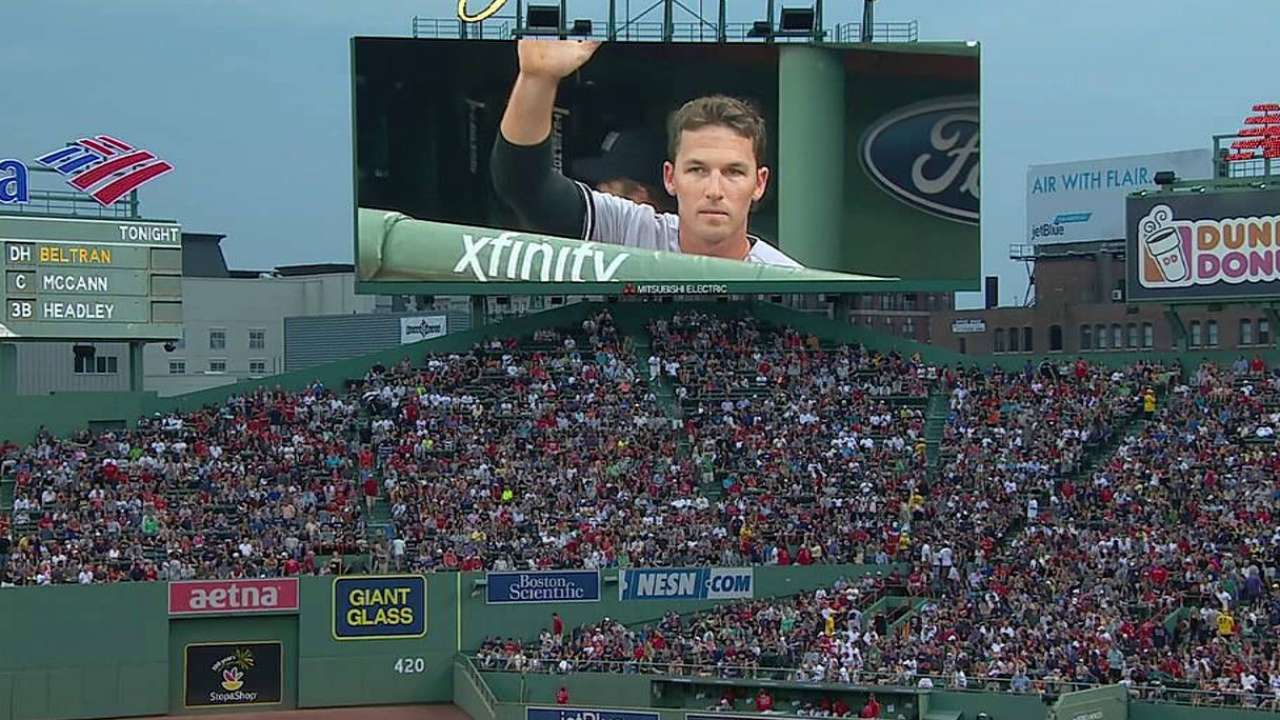 BOSTON -- Stephen Drew's on-the-job training at an unfamiliar position began Friday, as he was asked to play his first big league innings as a second baseman. It can only help his acclimation process that he had just half a ballpark to travel.
Acquired from the Red Sox on Thursday afternoon, Drew shuttled his belongings into the smaller visiting clubhouse at Fenway Park, suiting up in road grays and preparing to take on his former club as New York opened a three-game series in Boston.
"It comes with the territory of playing this game," Drew said. "It's pretty strange to walk across the clubhouse and change uniforms, but I am looking forward to it. I really am. New York's giving me an opportunity here. We're still in the chase. It's something I've been used to and I am looking forward to the challenge."
Drew is replacing veteran second baseman Brian Roberts, who was designated for assignment on Friday. Drew has never played any other position than shortstop in the Majors, but with Derek Jeter installed there, manager Joe Girardi said that he plans to use Drew mostly as the starting second baseman.
"I'm just excited to get to play with a guy who is in his last year, and try to learn as much as I can from him and take it all in," Drew said. "This is something new for me. It's definitely going to be a challenge, but also I am looking forward to the challenge. I take pride in that.
"It's baseball. I haven't done it in eight years of the big leagues, going over to second, so that will be an adjustment. But I think the Yankees, with this move, they are confident in me just with the athletic ability that I have to move to second."
Girardi said that because of aggressive defensive shifting, Drew actually has seen some time on the right side of the field even while playing shortstop, so he should be able to make adjustments rather easily.
"I asked him; with the shifts, you know he's capable of doing it," Girardi said. "Getting comfortable might take a little bit of time, though. Anytime you switch double play partners, there's going to take some time to get used to that, too."
Drew said that he played two months of second base as a 10th grader on the varsity squad at Lowndes High School in Valdosta, Ga., which is quite a leap to manning the middle infield alongside Jeter. That fact does not concern infield coach Mick Kelleher.
"He's got great hands, quick feet and a good arm," Kelleher said. "So that's a nice combination for a shortstop or second baseman."
In a strange twist, Drew was traded for Kelly Johnson, who is one of Drew's best friends from their days together with the D-backs. Drew said he texted Johnson to give him a few pointers about living in Boston.
"I'm thankful for the Red Sox and what they did for me," Drew said. "Now it's time to move on."
Bryan Hoch is a reporter for MLB.com. Follow him on Twitter @bryanhoch and read his MLBlog, Bombers Beat. This story was not subject to the approval of Major League Baseball or its clubs.