Betances hits triple digits on Fenway radar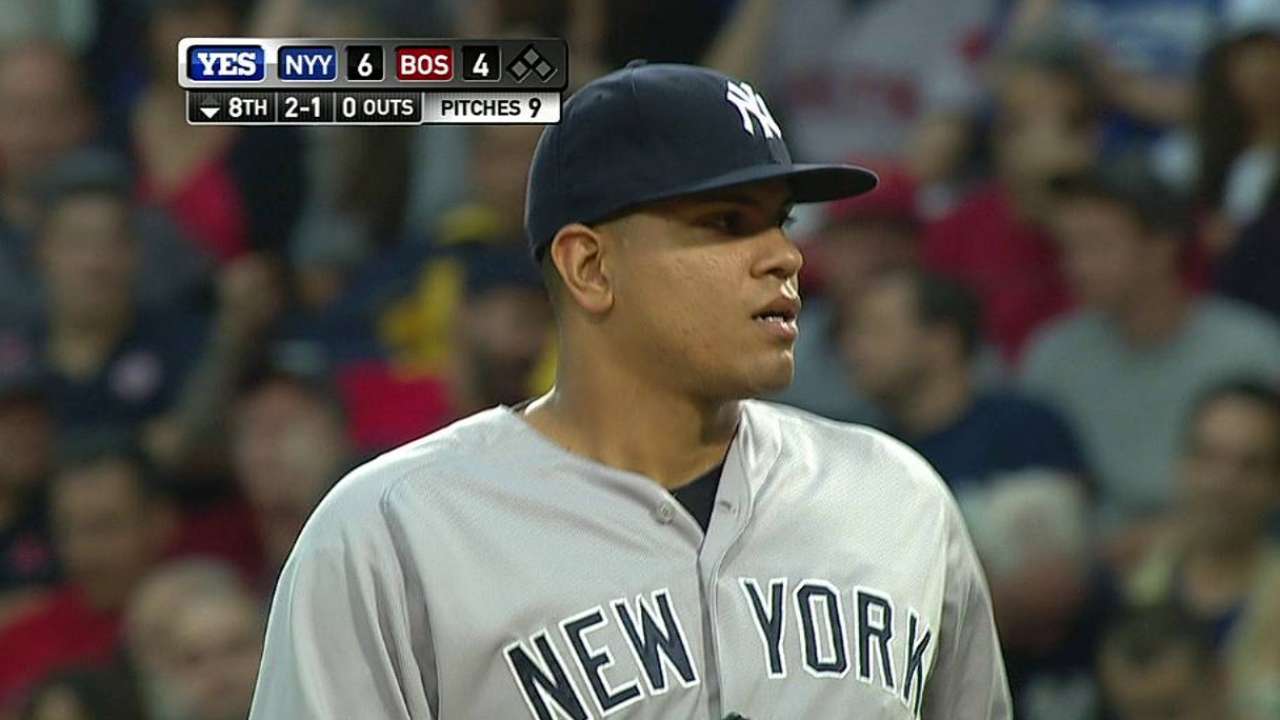 BOSTON -- Dellin Betances couldn't help himself. As he turned back from the mound, having completed an eighth-inning strikeout of Mike Napoli, the Yankees reliever took a peek at the radar-gun readout.
Fenway Park's digital board had clocked Betances at 101 mph, which he said was an all-time high for him. What's more, it wasn't a fluke: Fenway's gun had Betances throwing in the triple digits three times to Napoli.
"I feel blessed to be able to do that, but I was more happy that I was able to get him out," Betances said. "He's a tough at-bat every time. And that situation is important to get the leadoff guy out."
Betances said that extra rest helped him channel some bonus adrenaline, which did not go unnoticed in either dugout.
"I've only faced one pitcher like that who could throw 100 mph, and that was Aroldis Chapman," said Boston's Yoenis Cespedes. "I faced Betances once earlier in the year. He wasn't at that kind of velocity."
Manager Joe Girardi said that he saw the gun readings at Fenway and that he wanted to compare the scoreboard to the team's own numbers.
"It was kind of high," Girardi said. "I'll have to look on ours. We've seen him hit 98, 99 with us, too. He had three days off, and he probably felt pretty good today."
Whatever the true number was, Betances will gladly take the end results.
"There's days that the ball feels like it's coming out better, and today was one of those days," Betances said.
Bryan Hoch is a reporter for MLB.com. Follow him on Twitter @bryanhoch and read his MLBlog, Bombers Beat. This story was not subject to the approval of Major League Baseball or its clubs.