Phelps to DL; Yanks consider rotation options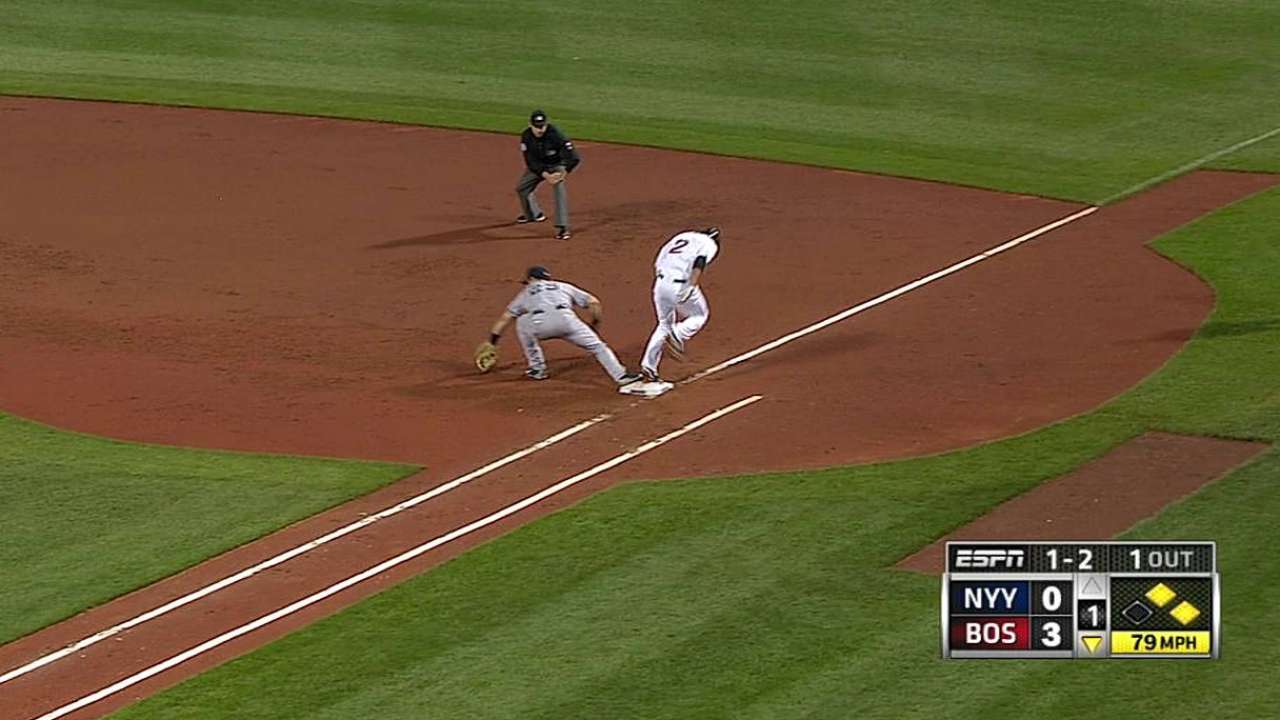 NEW YORK -- The Yankees announced Monday that starter David Phelps, who lasted just two innings Sunday against the Red Sox, was placed on the 15-day disabled list with right elbow inflammation. Righty Matt Daley replaced Phelps on the roster and was available Monday night against the Tigers.
Phelps said that some lingering elbow soreness didn't loosen up -- as it usually has in the past -- during his warmups Sunday night. A second MRI Monday revealed that his ligament was still clean, but he will have to shut down his arm for two weeks with the tendinitis.
"It's devastating," said Phelps, who likely won't be back in the rotation for at least three weeks in order to get his arm back into shape. "Like I said last night, this is one of the best stretches I've had in my career. Hopefully rest it, have it calm down, and come back and help this team get to the playoffs."
Phelps, who said he first felt a little pain against Cincinnati on July 18, was hit hard by the Red Sox on Sunday, surrendering five runs on six hits in two innings, including a two-run Dustin Pedroia homer. He started the year in the bullpen before being moved to the rotation due to injuries; Phelps is 5-5 with a 4.24 ERA in 26 games (17 starts) this season.
As for a rotation replacement, the Yankees could look to Esmil Rogers, who hurled three scoreless innings in his Yankees debut on Sunday, or Chase Whitley, who relived Phelps in Sunday's game. Whitley had made 12 starts this season before being moved to the bullpen.
"We haven't talked about it yet enough," said Yankees manager Joe Girardi. "I'll sit down with [pitching coach] Larry [Rothschild] and all our coaches, and the front office, and talk about it. It'll probably be somebody from here."
That could potentially mean Michael Pineda, though it is unlikely. Pineda worked 3 1/3 scoreless innings in a Minor League rehab start for Triple-A Scranton/Wilkes-Barre against Syracuse on Sunday, and was in the clubhouse Monday.
"I'd be happy," he said of potentially returning to the rotation by Friday, when he is scheduled to throw next.
"I really don't think it's going to be here," said Girardi, who indicated Pineda would throw 75 pitches in his next start. "Sometimes circumstances dictate that you need a guy sooner than maybe they're ready. Sitting here today, I would say our plan is not for [Pineda] to start here on Friday.
"You want to make sure a guy is healthy. You also want to make sure that they're up to full strength before you throw them out there, because the competitive nature is going to kick in. But you also want him sharp. Obviously he's getting closer."
Jake Kring-Schreifels is an associate reporter for MLB.com. This story was not subject to the approval of Major League Baseball or its clubs.