Surgery reveals bone spur in CC's right knee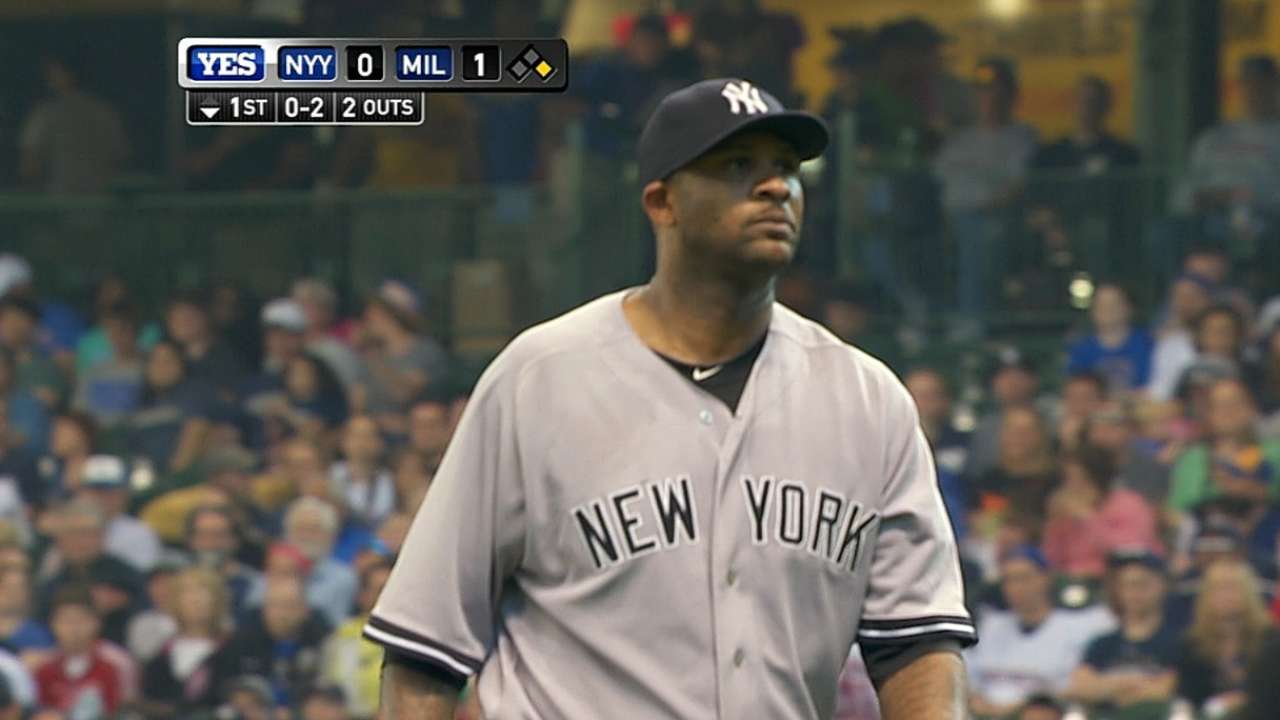 NEW YORK -- CC Sabathia walked into the Yankees' clubhouse on crutches Tuesday and had some bittersweet news regarding his knee surgery that took place July 31.
Dr. Neal ElAttrache, as expected, cleared out the knee without any problems, but during his scope, the doctor found a bone spur that he shaved off in the process. In two weeks, Sabathia will get a stem-cell injection and should be able to have a regular rest period in preparation for Spring Training.
"I'm gonna do the stem cell in, I think, a couple weeks, go from there, and try to have a normal offseason," said Sabathia. "I'll have time to let it sit in there and try to work this time, instead of rushing back to pitch. I have five, six months to let it sit in there and see if it'll work."
"[The bone spur] was something we didn't know," he said. "[ElAttrache] got in there and saw it, and was able to shave that out of there. I think that was good -- having him go in there and at least get a scope in there and see what is going on, try and put a plan together going forward."
That, and the fact the micro-fracture surgery was unnecessary, was the good news. The more looming prospect is that Sabathia will always have pain in his knee, primarily because there is no cartilage between the bones.
"I'm always going to need something," said Sabathia. "Whether it's getting it drained, or [platelet-rich plasma] shots, or something, going forward there's always something I'm going to need to do. ... We'll see how it goes. If it swells up, we can drain it. [I] just have to get used to it."
"We took the road more traveled, which is to do a cleanup, and give him a chance to come back and maybe self-correct, so to speak," said general manager Brian Cashman. "Hopefully the procedure he just had is good enough to return him to our rotation every five days for an entire year starting next year."
Both Sabathia and Cashman seemed positive the lefty can have a normal offseason and be ready to pitch next year under his present circumstances. But manger Joe Girardi knows that monitoring Sabathia will be a must all of next year, especially as the veteran hurler starts putting pressure back onto the knee.
Sabathia, who turns 34 on Monday, has not pitched in the big leagues since May 10, when he started against the Brewers at Miller Park and experienced swelling in his right knee.
"This is not the first year we've had things we've had him manage with his knee before," Girardi said. "You know that it's a concern, and you have to stay on top of it. It's part of the wear and tear on a guy that's thrown a lot of innings. He's in the aging process. You've got to stay on top of it."
Jake Kring-Schreifels is an associate reporter for MLB.com. This story was not subject to the approval of Major League Baseball or its clubs.