ALS awareness personal for dedicated Kelley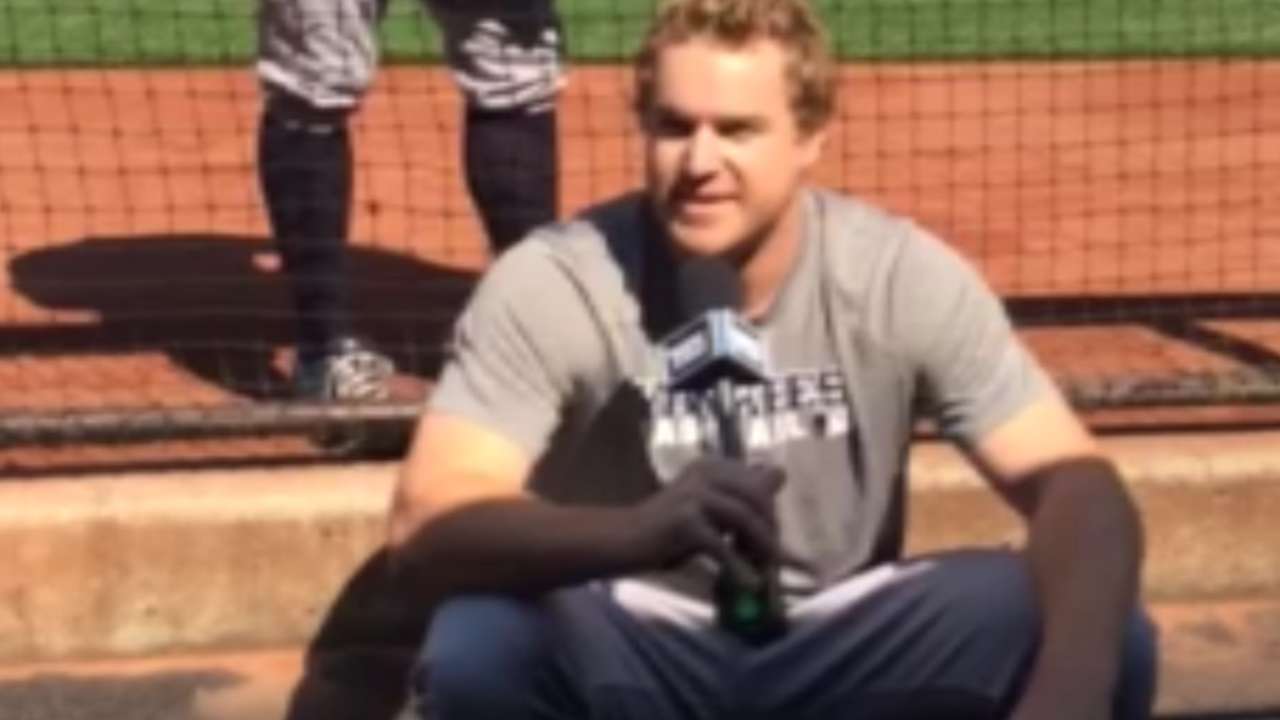 ST. PETERSBURG -- The frigid water splashed over Shawn Kelley's head and ran down his T-shirt, with teammate Brett Gardner providing a generous, slow pour from a dugout cooler. It wasn't the world's most pleasant sensation, but if it helps ALS research, the Yankees reliever doesn't mind braving a little ice.
Kelley joined the ongoing social media craze by participating in the Ice Bucket Challenge this week, and raising awareness for ALS has a personal connection for the hurler. His grandfather, Gene Werner, passed away from complications of ALS in 1996 at age 63, when Kelley was 12.
"I remember the conversations when they first knew something was wrong," Kelley said. "He started to have trouble using his hands; he was big into collecting old automobiles and working on them. He was an extremely active person that never sat still, and that's how he started noticing his motor skills weren't as sharp as they were."
Kelley said that his grandfather deteriorated quickly after the ALS diagnosis; after just eight months, the family had to make the difficult decision to end life support.
"My dad sat me down and explained to me that he was sick and that everything was moving along at a fast pace, and that our days might be numbered with him," Kelley said. "We'd go to the hospital as often as we could and visit with him, and he could still move around and communicate a little bit. Then it kind of got to where he had to point to letters, and then it got to where he could barely blink his eyes. It was a tough time."
Kelley said that he was inspired to participate in the Ice Bucket Challenge when a friend passed along a YouTube video from a female fan who challenged the entire Yankees organization to take part.
A video was taken in the visiting dugout at Camden Yards, and as part of it, Kelley has now passed along the challenge to CC Sabathia, Masahiro Tanaka and Mariners ace Felix Hernandez.
"Any chance that I get -- if it gets one tweet or a million tweets, or raises one dollar, I'll stop what I'm doing and do it," Kelley said. "Hey, if it raises awareness, I'll do it. I'm not [Derek] Jeter or Tanaka, but I'm part of the Yankees, so it might raise something."
Bryan Hoch is a reporter for MLB.com. Follow him on Twitter @bryanhoch and read his MLBlog, Bombers Beat. This story was not subject to the approval of Major League Baseball or its clubs.