Tanaka moving closer to rehab assignment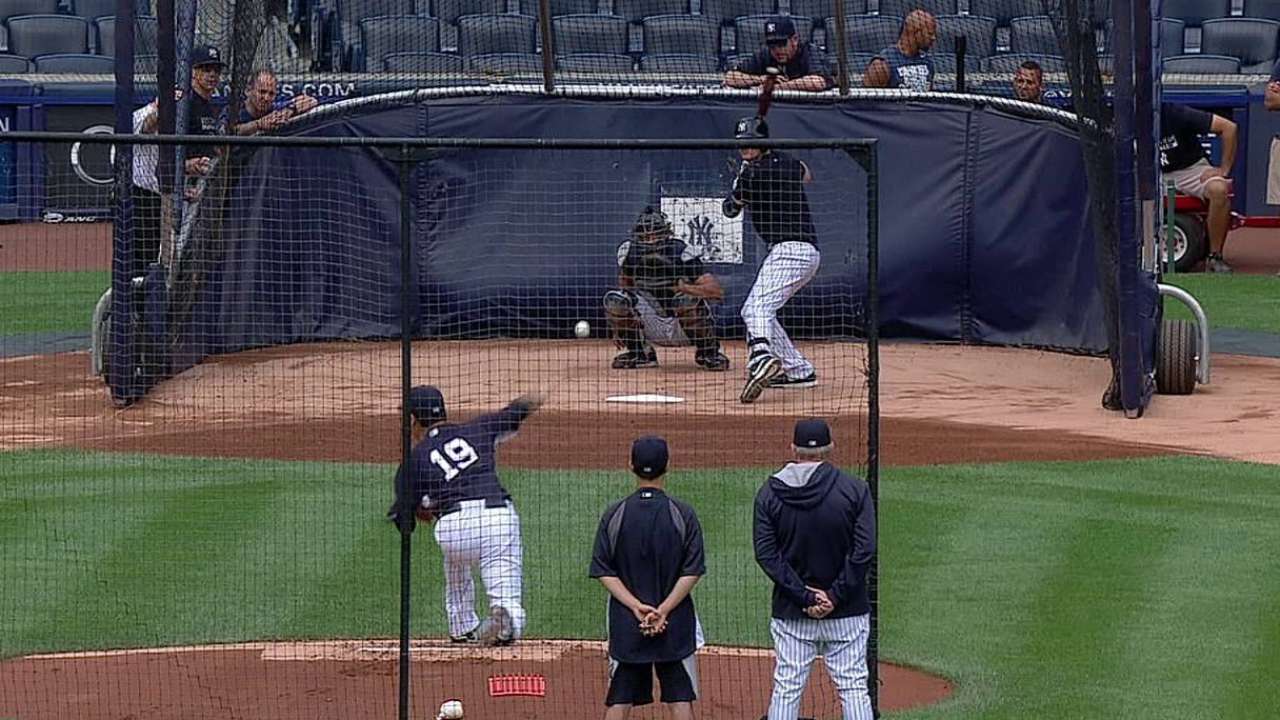 NEW YORK -- Right-hander Masahiro Tanaka took another successful rehab step Saturday morning, throwing 35 pitches again, this time to hitters in a shortened simulated game.
Tanaka threw a range of all his pitches to Brendan Ryan and Zelous Wheeler, tossing 20 to start, resting in the dugout for five minutes, and then finishing his workout with 15 more in front of pitching coach Larry Rothschild, manager Joe Girardi and a large contingent of media.
"I wasn't able to hit my spots as much as I wanted to. I feel it's a little bit still rusty," said Tanaka, who felt no pain as he is recovering from a partial tear of his ulnar collateral ligament. "There were some good balls that I was able to throw. It was a good step, so I want to keep moving forward."
Rothschild called balls and strikes behind the mound and both Ryan and Wheeler, who later said Tanaka looked "great," took live swings, knowing which pitches were coming during his first round.
"The big thing is that he doesn't have pain and the ball is coming out OK," said Girardi. "The guys were talking about how hard it was to pick up the split and the arm motion, which is a good sign because it means he's not babying it and that's encouraging."
"I thought it was a good progression as long as he's healthy," said Rothschild. "His stuff's in the right direction, being able to throw 35 pitches and do full warmups and everything. ... He's not that far removed from pitching in a game."
Rothschild said his focus was on both Tanaka's facial gestures as well as his stamina and arm strength, all of which he said seemed to be fine. Rothschild, who believes Tanaka will only get sharper the more he throws form a mound, checked on him between sessions but doesn't want him to think too much as he rehabs.
"I'm not saving anything when I throw each pitch," said Tanaka, who hasn't pitched in a game since July 11. "I'm not scared when I'm throwing the splitter. I think it was a little bit rusty, but I feel that I'm being able to throw the splitter how I have been throwing before I got hurt."
That's good news for the Yankees and general manager Brian Cashman, who expect Tanaka to return in September and hopefully provide an extra boost in their hunt for the playoffs. As for the next step, the Yankees don't have a definitive plan just yet.
"He's going to have to make some rehab starts," said Girardi. "I'm not exactly sure how we're going to be able to do it as we build him up because you're going to run out of Minor League season, but we'll be creative enough to do whatever we have to do to get him ready."
Jake Kring-Schreifels is an associate reporter for MLB.com. This story was not subject to the approval of Major League Baseball or its clubs.