Torre finds a home in Monument Park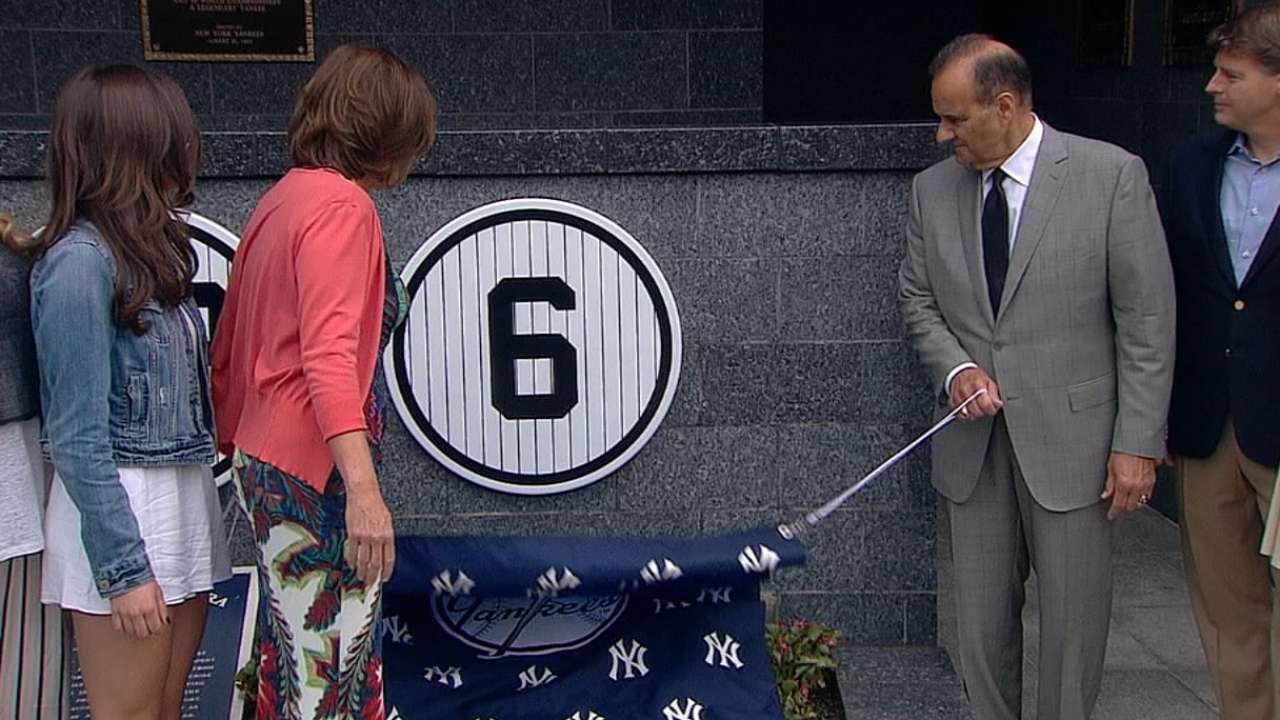 NEW YORK -- Joe Torre has had quite the summer, and it continued Saturday when the Yankees honored their former manager by retiring his No. 6 and recognizing his managerial success with a plaque in Monument Park.
Now serving as MLB's executive vice president of baseball operations, Torre made six World Series appearances and won four championships in his 12-year tenure as skipper from 1996-2007. He led his club to the postseason each year as manager, boasting 1,173 wins to 767 regular-season losses.
"When you know the neighborhood you're in out there, it's pretty cool, it's unbelievable," said Torre. "This is the Yankees, you start talking about number retirements."
Torre was shuttled in a cart from Monument Park with Yogi Berra to home plate where a large contingent of former managers, coaches and players sat waiting for him. That group included former managers Jim Leyland and Tony La Russa, who was inducted into the Hall of Fame with him a month ago, as well as former coaches Lee Mazzilli, Ron Guidry, Jose Cardenal and Willie Randolph.
Before a brief speech, he unveiled a replica of the plaque and received a matted frame of his jersey as well as a lifetime achievement ring. The New York City Mayor's Office also officially declared Saturday as "Joe Torre Day."
As Torre spoke to the crowd, he was quick to recall some of his favorite stories with his former players -- David Cone, Hideki Matsui, Paul O'Neill, Tino Martinez, Bernie Williams, Jorge Posada and Andy Pettitte -- giving each a personal, gratuitous anecdote. He also made sure to reference former owner George Steinbrenner and longtime friend and coach Don Zimmer, who was represented by his wife, Jean Soot.
"I held it together better than I thought," said Torre. "When I saw Soot Zimmer coming out of the dugout and I start seeing the players I get choked up. I can't help it. It was every bit as special as I thought it would be."
"Obviously, it was great day and it's nice to win on a day like today when so many people came back," current Yankees manager Joe Girardi said after his club's 5-3 victory over the White Sox. "Joe meant a ton to all of us. He really did. [Jeter] talked about him being a second father. I think all of us talked about him being a mentor to us. To see Yogi back in the house was great and all the people that came back and the message from Mel [Stottlemyre] and to see Soot Zimmer. Joe meant a lot to a lot of people and I think you saw that today."
Jake Kring-Schreifels is an associate reporter for MLB.com. This story was not subject to the approval of Major League Baseball or its clubs.