Tanaka uses entire repertoire in simulated game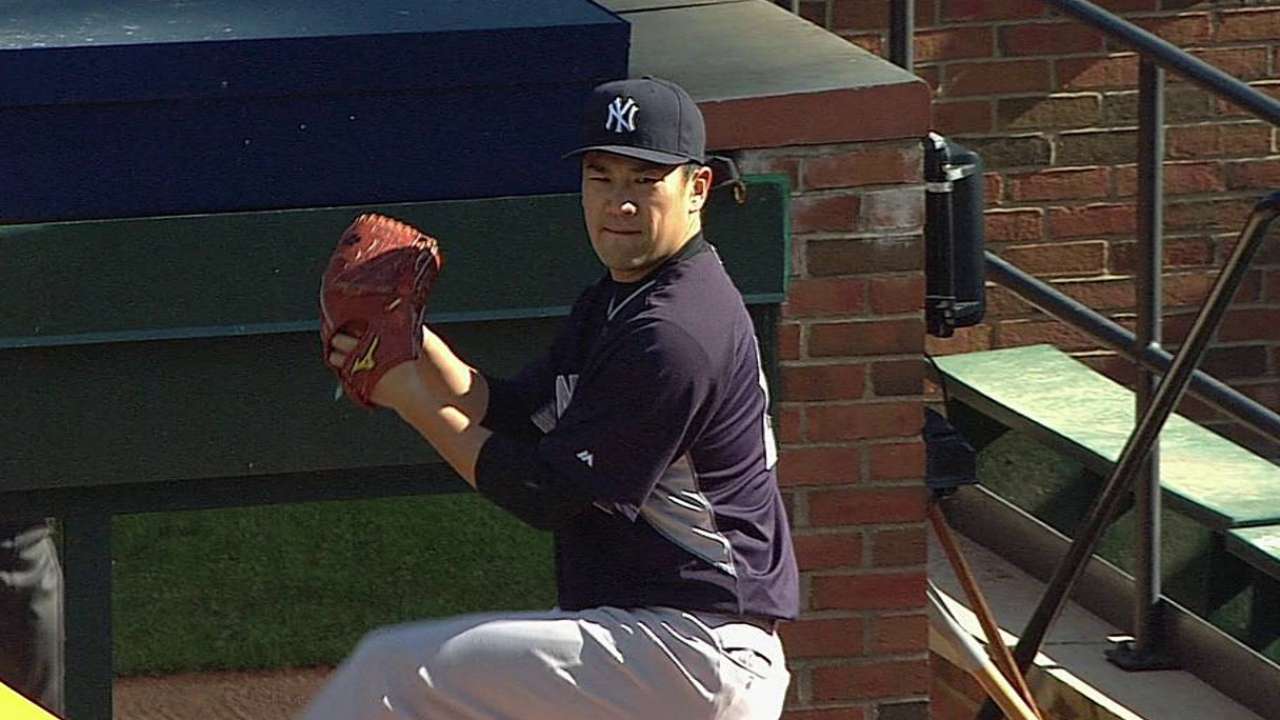 DETROIT -- The catcher's glove popped with good velocity as Masahiro Tanaka worked off the mound on a sunny Thursday morning at Comerica Park, and while the hurler's stuff showed some rust, the Yankees came away with excitement about what might be around the corner.
Tanaka threw 49 pitches in a three-inning simulated game, using his full repertoire to Brendan Ryan, who rode the early bus and batted from both sides of the plate. Ryan said that he thinks the rehabbing right-hander looks close to big league ready.
"The pinpoint [command] is probably going to be the last thing to come. I would expect that to be there pretty soon," Ryan said. "He can go out there and get outs now, just on stuff alone. The sooner the better. I'd say it was a pretty good day."
Tanaka said that he has been feeling only normal soreness, another good sign as he attempts to avoid Tommy John surgery. He expressed dissatisfaction with some of his pitches, having thrown his slider, splitter, curveball and both fastballs in the session.
"I think some of the balls I am throwing, I'm still not able to hit my spots," Tanaka said through an interpreter. "The rust is still there, so I still have some work to do to get back to game-ready."
The Yankees are bringing Tanaka along with the hopes of having him make starts in September, and manager Joe Girardi said that Tanaka will need at least two more sessions against hitters before that can happen. The Yankees want to build Tanaka to at least 75 pitches.
"You have an idea that it's possible that he could come back at some point here," Girardi said.
Ryan made some solid contact, lining a couple of balls to center field and one to deep right-center, but he was also late on many of Tanaka's pitches.
Tanaka said that he is throwing his trademark splitter "worry-free," and the Yankees have been watching Tanaka's facial expressions closely to see if he is masking discomfort.
"I didn't see him favoring anything, and that's a good sign," Girardi said.
Ryan also came away encouraged. He said that from his end, some of Tanaka's splitters "were so dirty you just forget to swing."
"It feels like the velocity is there; some of them are a little bit up, but that speaks to being off for a while," Ryan said. "I don't expect him to be pinpoint or anything like that. It's just nice to see him throwing without any pain."
Bryan Hoch is a reporter for MLB.com. Follow him on Twitter @bryanhoch and read his MLBlog, Bombers Beat. This story was not subject to the approval of Major League Baseball or its clubs.