Girardi being cautious with Ellsbury's ankle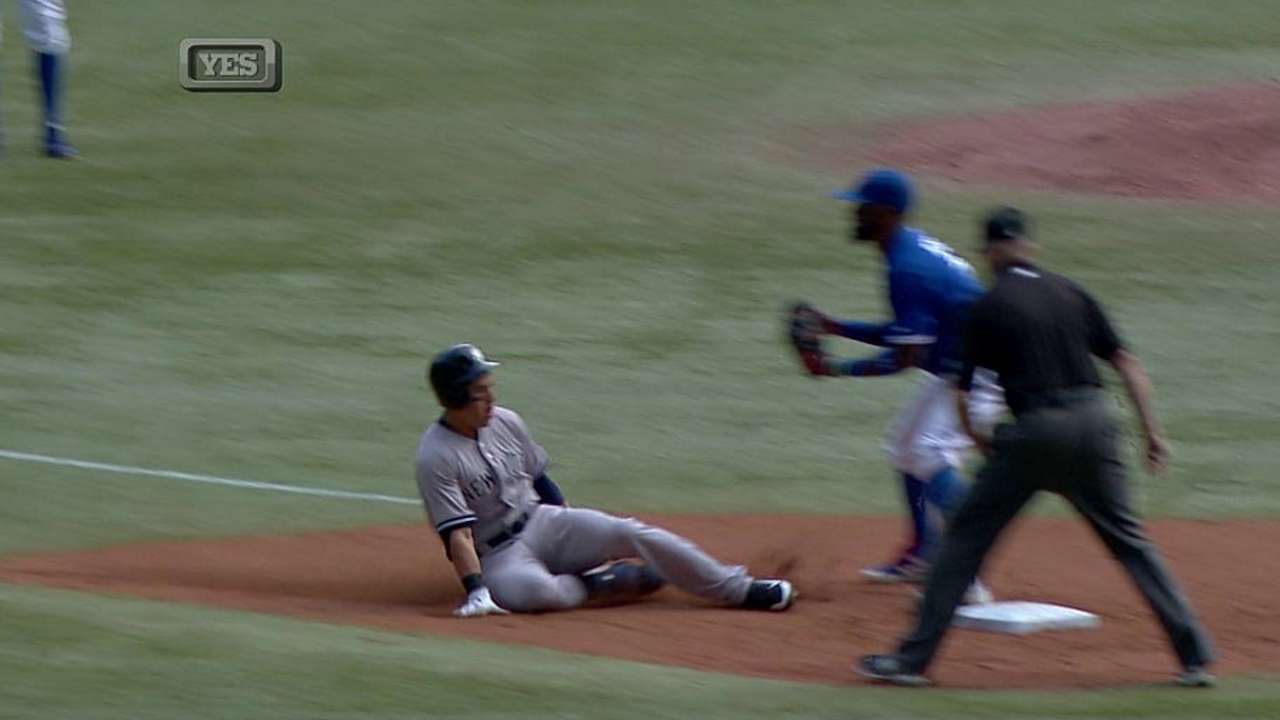 TORONTO -- Jacoby Ellsbury was held out of the Yankees' lineup on Sunday for the second consecutive game with a sore left ankle. He was able, however, to go through some baseball activities before the afternoon contest and entered in the ninth inning as a pinch-hitter.
Ellsbury doubled off Blue Jays closer Casey Janssen with one out in an eventual 4-3 series-ending loss. The sore ankle was tested on the play, too. Ellsbury hit a blooper to right field that landed between three Blue Jays players, who all attempted to catch the ball.
Edwin Encarnacion fielded the shallow hit on a hop, but his throw couldn't beat Ellsbury to the bag. Ellsbury hustled around first and slid hard into second base in what was his first at-bat since Friday.
"My adrenaline was pumping," Ellsbury said following the game. "I typically don't pinch-hit. ... In that situation, you want to get on base and get into scoring position. Once I saw that ball go up in the air, I knew it was going to take a high hop. There's only one thing I could do -- go for two and hopefully get into scoring position."
Ellsbury said his ankle felt sore but that he was "going as hard as I could run." He was lifted for a pinch-runner after reaching base.
The next step is for Ellsbury to get an MRI once the Yankees arrive in New York on Sunday night to determine the severity of the injury.
"Where the swelling is at is why we want to get an MRI," he said.
Prior to the game, Ellsbury did some light running, took batting practice with the team and wasn't walking with a limp like he had been since injuring the ankle in the ninth inning of Friday night's series-opening win.
He was pleased with how he came out of the morning workout and so, too, was manager Joe Girardi.
Ellsbury was ultimately unable to sway Girardi into penciling him in the starting lineup.
"I was pleading to play," Ellsbury said.
The Yankees have an off-day on Monday, so Ellsbury will get some extra time to recover ahead of Tuesday's series opener against the Red Sox.
"The fact that he got better makes me feel a little bit better," Girardi said before the game. "But I'm still concerned."
Girardi's biggest worry heading into the game was how Ellsbury would be able to run the bases. But it appears he passed that test with flying colors.
"He wants to play, he's a competitor," Girardi said. "All these guys want to play when they are beat up. That's the way you want players to be. But sometimes you have to help make decisions for them."
It appears the Yankees dodged a major bullet, as Ellsbury's injury doesn't look to be something that will affect him long term.
"Hopefully, I'll be out there starting after the off-day," Ellsbury said. "[Girardi] knows how much I want to play and contribute."
Ellsbury was New York's hottest hitter in August, finishing the month with a .324 batting average, five homers and a team-high .905 OPS.
Chris Toman is a contributor to MLB.com. This story was not subject to the approval of Major League Baseball or its clubs.