Gardner ejected for arguing called third strike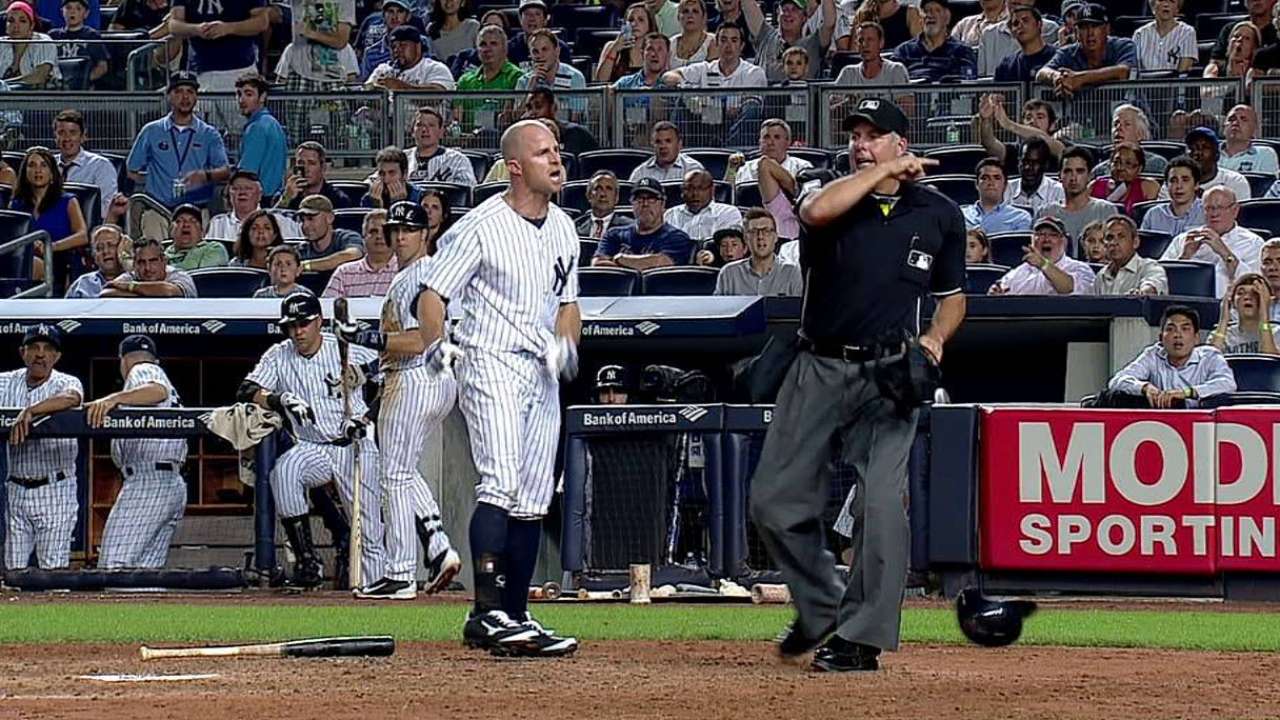 NEW YORK -- Brett Gardner didn't even have to say a word. The act of spiking his batting helmet to the infield dirt was enough for home-plate umpire Tim Timmons, who quickly ejected the Yankees' left fielder for arguing a called third strike in Tuesday's 9-4 loss to the Red Sox.
With two outs in the fifth inning, Gardner looked at a 96 mph Joe Kelly fastball that appeared to be outside off the plate, but was ruled strike three by Timmons, leaving the bases loaded. Gardner furiously protested, gesturing wildly as Timmons shook his head before Gardner was led away by manager Joe Girardi.
"I thought there had maybe been a couple pitches that didn't go my way the first couple at-bats, and then the first pitch of the third at-bat for me, and then the last pitch -- it just felt like it was way outside," Gardner said. "I felt like he gave him way too much, and I was pretty angry."
It was the third career ejection for Gardner (also July 21, 2010, vs. the Angels and July 19, 2013, at Boston), who was batting third for the first time in his big league career and finished the night 0-for-3.
"It's human nature. That's the fight in him," Girardi said. "That's what we love about Gardner, that's the fight in him and it's frustration. It's a lot different when [the count is] 3-2 in that situation with the bases loaded. He has to throw a strike, and we all know Gardy has a very, very good eye."
Gardner acknowledged that during his tirade, he kicked the dirt in the right-handed batter's box to show Timmons where he thought the ball had crossed home plate. Girardi indicated that he thought Timmons had been fooled by catcher David Ross' pitch-framing.
"Let's just say that Ross did a heck of a job," Girardi said.
Martin Prado moved from second base to replace Gardner in left field, with Stephen Drew entering the lineup in the No. 3 spot as the second baseman. Gardner said that he would not change anything about his actions.
"[I would act] the same way," Gardner said. "As soon as he called it a strike I was getting thrown out of the game. He threw me out before I even said anything to him. I knew where the ball came across and I knew it wasn't close to the plate, and I wasn't happy about it."
Bryan Hoch is a reporter for MLB.com. Follow him on Twitter @bryanhoch and read his MLBlog, Bombers Beat. This story was not subject to the approval of Major League Baseball or its clubs.