Double steal results in unique twin killing
Red Sox end Yankees' threat with 2-6-3-4-5-3 play to end first inning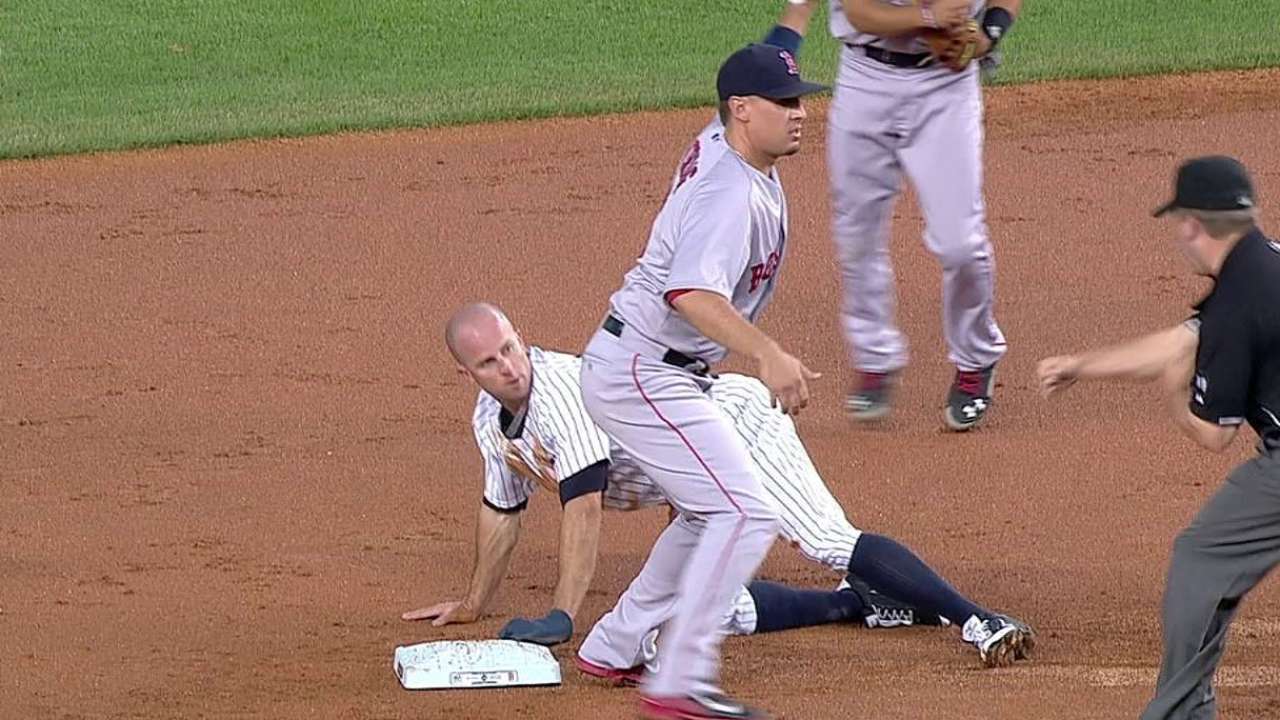 NEW YORK -- The Yankees came away with a 5-1 victory over the Red Sox on Wednesday but ran themselves out of another potential rally, when a double steal attempt in the first inning resulted in a 2-6-3-4-5-3 double play.
Carlos Beltran was at the plate when Derek Jeter and Brett Gardner took off from second and first, respectively. Jeter got in safely to third, and Red Sox catcher Christian Vazquez threw to second base causing Gardner to hold up and get caught in a rundown.
Jeter inched closer toward the plate with each throw in the rundown until Boston second baseman Jemile Weeks snapped a throw toward third and Jeter was caught retreating to the base. Then third baseman Brock Holt fired the ball back to second base, covered by first baseman Allen Craig, to get Gardner as he tried to advance for the final out of the inning.
"The key in that is we had intentionally thrown for the lead runner," Red Sox manager John Farrell said. "Vazquez makes just a very heads-up read, throws back in to cut down the trail runner and then we execute as good as you could in that situation with the multiple rundowns and fortunately came out of a situation where we have one man out, two men on and end the inning with a baserunning double play."
Although the Yankees spoiled a potential big inning on the basepaths, as they also did on Tuesday, New York manager Joe Girardi said he did not have a problem with the decision, citing that Gardner and Jeter are both experienced at stealing bases.
Martin Prado was tagged out in the fifth inning on Tuesday, trying to advance to second on a hit off the wall because he did not notice that Beltran and Brian McCann held up to make sure the ball was not caught.
"It's just sometimes it's over-aggressiveness," Girardi said. "You look at the one we did last night, it's not picking up the runner in front of you. It's not like these guys aren't experienced and they know what they need to do. Sometimes it's just a matter of playing too hard and trying too hard to not make mistakes."
While addressing the Yankees struggling offense prior to the Wednesday's game, Yankees hitting coach Kevin Long mentioned how often the Yanks seem to cost themselves more scoring opportunities because of poor baserunning decisions.
"How many times have you seen it happen this year where we've run ourselves out of an inning?" Long said.
Jamal Collier is an associate reporter for MLB.com. This story was not subject to the approval of Major League Baseball or its clubs.