MLB.com Columnist
Richard Justice
With small margin for error, Yanks in playoff mode
Instead of taking series loss, Girardi's club going all out down stretch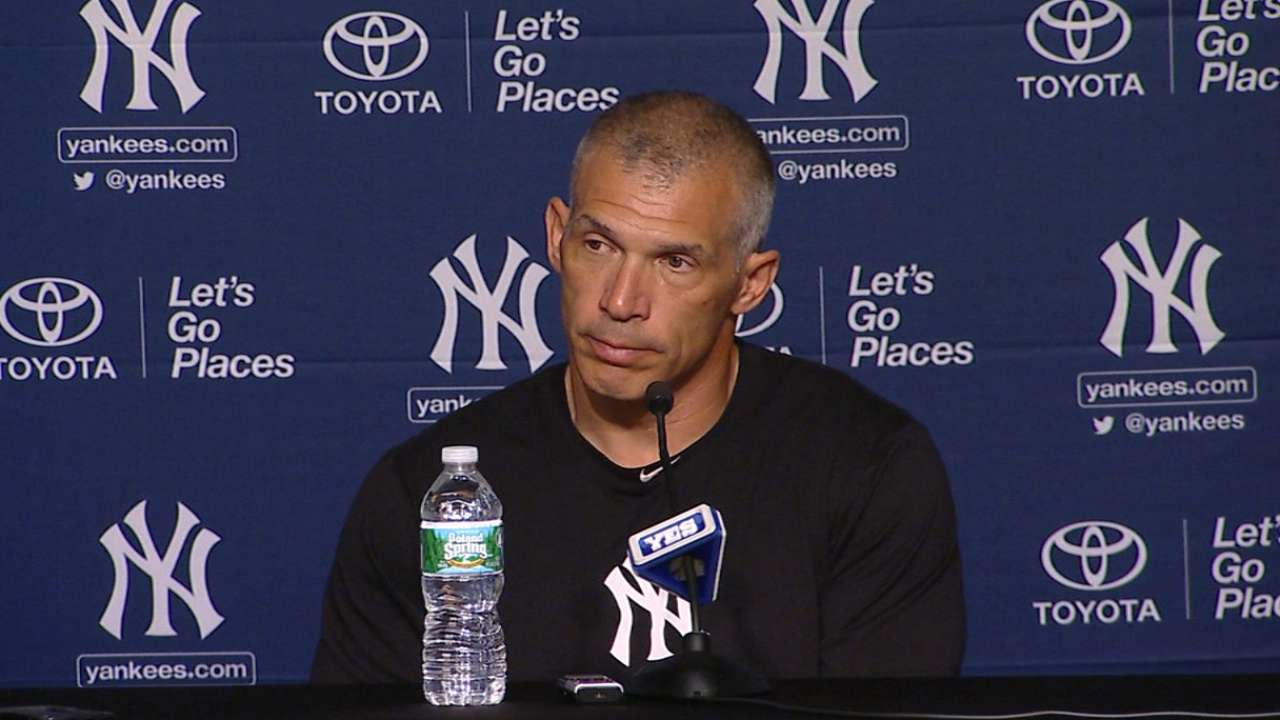 NEW YORK -- Joe Girardi managed the game as if the entire season was on the line. In that way, things have gotten simple for the Yankees.
"We're in a playoff mode -- right now," Girardi said.
So maybe that's why it was one of those games that had a little bit of an October feel. The Yanks have played themselves into a tough spot.
They were face to face with another disappointing loss when Mark Teixeira and Chase Headley homered in the bottom of the ninth inning to rally the Yankees to a 5-4 victory over the Red Sox on Thursday.
It was one of those lone victories that seemed like it might be worth a little bit more than that.
"This is what you play the game for," Teixeira said.
Back to Girardi. When his starting pitcher, Chris Capuano, got into trouble in the fifth inning of a tie game, Girardi went right to his bullpen.
Would Girardi have made that same move in June or July? Doesn't matter, because it's not June or July.
"We're kind of in the playoffs right now," Capuano said. "Every game is so big."
Girardi paraded five relievers to the mound, and they responded with 4 2/3 shutout innings.
"It's all set up with what our bullpen did," Girardi said.
Girardi felt he had no choice, because he couldn't afford to let the game get out of reach. The Yanks began the day having lost five of eight, and a season was slipping away.
"We've got a very small margin for error," Teixeira said.
Teixeira means that the Yankees could use some magic. They acknowledge this. They also know they've had plenty over the years.
And so on Thursday night at Yankee Stadium, they rattled some ghosts and sent a reminder that there's a reason to keep going.
"Who knows what can happen in September?" Teixeira said.
Yeah, it had that kind of feel.
The Yanks were trailing by a run in the bottom of the ninth inning when the Red Sox had put the game in the hands of their closer, Koji Uehara.
Teixeira went up swinging for the fences. Isn't it funny how baseball works sometimes? Big cuts got him nowhere.
So with two strikes, Teixeira was hoping to get enough of the bat on Uehara's split-finger fastball to line a single to left field and give someone else a chance.
When Uehara left a split in the middle of the plate, Teixeira turned it into a towering game-tying home run to right.
In the dugout, there was an immediate sense of relief, even though the game was only tied at that point.
"Kind of takes the pressure off everybody," Headley said.
And then it ended. In an instant. One batter after Teixeira's homer, Uehara left another split in the hitting zone.
As soon as Headley swung the bat, he knew the Yankees had ended it. Afterward, Girardi seemed more relieved than joyous.
"We needed it," he said, "and we're going to need a lot more. It doesn't matter how you win these games or when you win 'em. You've just got to win 'em."
Inside the home clubhouse, there was hope.
"It's a huge win," Teixeira said. "You feel like you stole one."
The Yanks are four games out in the race for the second American League Wild Card berth. They must pass two teams in the final 24 games.
There's no point in doing the math or calculating the odds. That stuff never makes any sense. All the Yankees can do is what they've done all year. Regardless of how it ends, Girardi knows he can trust his guys.
"I believe in 'em," he said. "That's all I can tell you. I believe in these guys. Like I said, they've fought and fought and fought."
Strange things have happened in baseball the last few years. Teams have come from way back in the final month. Playoff berths have been grabbed in the final hours.
The Yanks had scored three runs or less in four of eight games before Thursday. Teixeira, who had 17 homers in the first half of the season, hadn't hit one since Aug. 17.
"I've been pretty bad the last few weeks," he said bluntly. "If I have a strong September and we make the playoffs, it kind of wipes the slate clean. That's what I'm looking for."
Anyway, games like this can spark a nice run or at least give a club a shot of confidence. That's what the Yankees had rolling around in their minds when they departed.
"We keep fighting," Teixeira said. "We're going to stay in this as long as we can. We'll see what happens."
Richard Justice is a columnist for MLB.com. Read his blog, Justice4U. This story was not subject to the approval of Major League Baseball or its clubs.